10 great burger joints in town to check out! Get a taste of heaven with every bite!
There have been several people who have stepped forward claiming to be the inventor of the burger. We won't get into historical details, but humanity owes whoever he/she is a huge thank you for creating one of the most iconic items you can find on the menu of any self-respecting restaurant today.
It's easy to make in theory – just slap two buns at the end of a juicy patty, fresh lettuce, crunchy onions and tomatoes, melting cheese and condiments. But with all these flavours in your mouth, getting the right amount of each ingredients to create the perfect balance is no mean feat.
It's unfair to pigeonhole burgers into fast-food restaurants. They're one of the rare items that can fit comfortably in both ends of the restaurant spectrum, from McDonald's to higher-end restaurants.
In search of the good burger joints in town? Here are 10 places you can check out.
1881 by Water Library @ Groove at CentralWorld
Water Library's gastro bar at this breezy, partly open-air mall is inspired by a 19th-century steam power plant. The kitchen is all about comforting dishes, ranging from classic burgers to pasta dishes.
Pricing: 1881 Classic Wagyu Burger 290++ 145++
50% off slots: 15:00 | 15:30
25 Degrees @ Pullman Bangkok Hotel G
If the name sounds familiar, it's because this is the distant sister of its LA counterpart in Roosevelt Hotel. The precise temperature difference between a raw and well-done hamburger, Bangkok's 25 Degrees is the only international branch outside the US where you can get these famously delicious burgers.
Pricing: Number one (caramelized onion crecenza / prelibato gorgonzola) 330++ 165++
50% off slots: 15:00 | 15:30
The Kitchen Table @ W Bangkok
The Kitchen Table is a modern bistro, serving a mixture of east meets west cuisine. Only the finest ingredients are used here, using both locally sourced and imported ones, with the signature freshly made Kitchen Table burger, perfectly blended Thai and western tastes that will satisfy any and all burger lovers.
Pricing: The Kitchen Table burger 470++ 235++
50% off slots: Monday 15:00 | 15:30 | 16:00 Tues-Sun 14:30 | 15:00 | 15:30 | 16:00
Huntsman Pub @ The Landmark Bangkok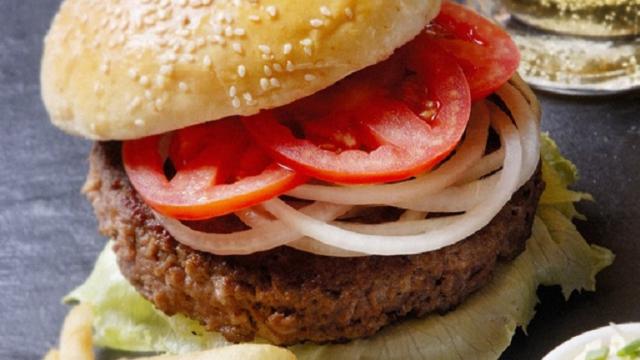 Good drinks, big screen for games and good ol' British nosh, the Huntsman Pub is as English as you can get. There are great burgers like prime 100% Aussie beef burger and many much more dishes for you to enjoy!
Pricing: Autralian prime beef burger 250++ 125++
50% off slots: 14:30 | 15:00 | 15:30 | 16:00 | 16:30 | 17:00
Hari's Bar @ Holiday Inn Bangkok Silom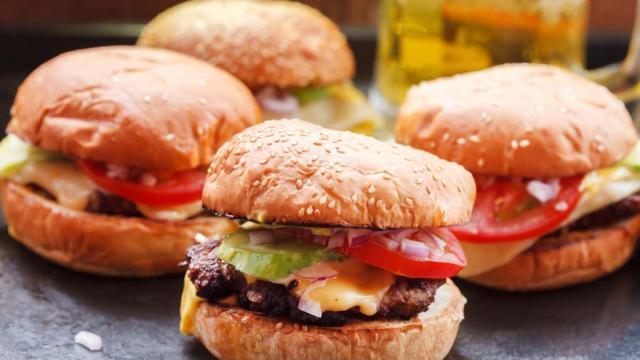 With its vibrant ambiance and a wide array of beverages, Hari's Bar is a great place to unwind after a long hard day of work. The place offers both alcoholic and non-alcoholic drinks, refreshing cocktails, and tasty burgers for you to enjoy.
Pricing: Grilled beef burger 420++ 120++
50% off slots: Every Slots
SWAY Urban Eatery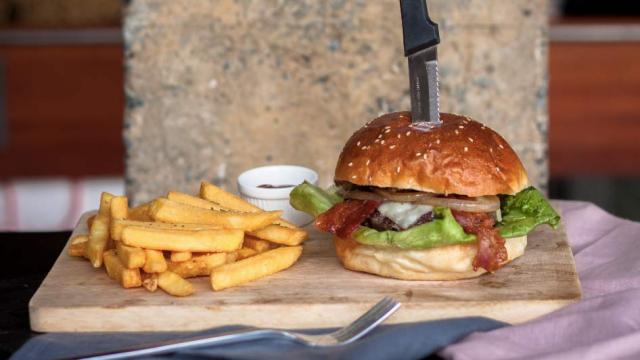 Situated in Thong Lor, this fashionably modern restaurant and bar offers international comfort food with awesome burgers, buffalo wings and plenty of drinks and cocktails for you to chill and unwind after a long day.
Pricing: SWAY burger 250++ 125++ | SWAY beef slider 290++ 145++
50% off slots: 18:00 | 18:30
The Twist Bar & Bistro @ Well Hotel
The Twist Bar and Bistro is a casual dining venue, ideal for intimate dinners, or just hanging with friends, with outdoor seating available for those who want a more atmospheric meal. Must-try items here include the farmer angus beef burger, braised pork spare ribs, and wasabi tuna tarte.
Pricing: Farmer angus beef burger 380++ 190++
50% off slots: 12:00 | 12:30 | 13:00 | 13:30 | 14:00 | 18:30 | 19:00 | 19:30 | 20:00 | 20:30
La Bai Bar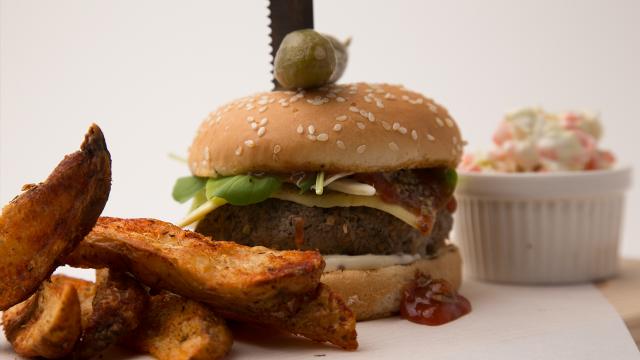 The retro La Bai Bar is a great place for both delicious Thai and international fusion cuisine. Its must-try signatures are its blue cheese beef burger, braised pork stew spicy soup and grilled Australian ribeye steak.
Pricing: La Bai bar burger 220++ 110+
50% off slots: 18:00 | 18:30 | 19:00
Flow Bar @ Le Fenix Sukhumvit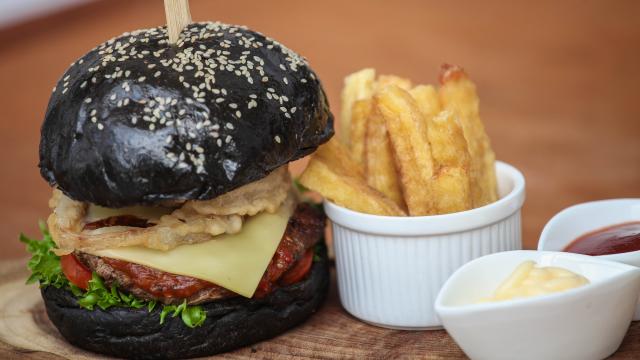 Located in Sukhumvit area, Flow Bar is a restaurant on Le Fenix Sukhumvit's 2nd floor. Its known for its cavernous ceiling, which contributes to the feel of a breezy vertical sanctuary. Its burgers are its signatures here. Go for the Big Boss burger, Le Fenix cheese burger or the more classic bacon & cheese.
Pricing: Le Fenix cheese burger 320++ 160++
50% off slots: 11:30 | 18:30
Bricks and Barrels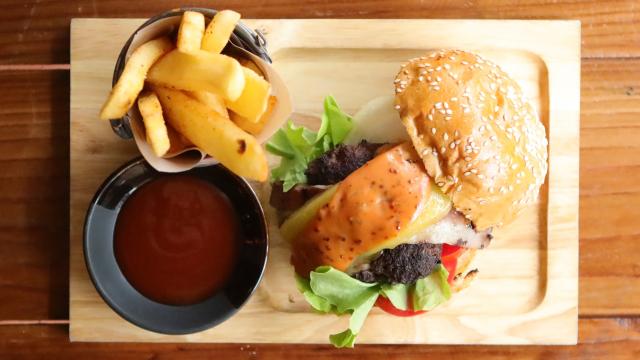 If you're looking for a place with excellent food and your favourite alcoholic beverages, Bricks and Barrels in Suan Phlu won't disappoint. Try their wood-smoked bacon cheese burger. For drinks, there are a mix of traditional brews and imported wines, which will pair perfectly with your meaty dishes.
Pricing: Wood-smoked bacon cheese burger 250++ 125++
50% off slots: 15:30 | 16:00