10 Must try restaurants for steak lovers in Bangkok!
Bangkok is a meat-loving town, with no shortage of top-notch steakhouses that satisfy your carnivorous cravings. We've compiled the top 10 meatiest restaurants in Bangkok, for those who love biting into a juicy, tender, perfectly seasoned and crusty cut of meat, from New York classic premium quality steakhouse to the world famous Japanese steak restaurant chain.
Sink your teeth into the best piece of meat at one of these restaurants! Reserve now on eatigo and get up to 50% discount.
Babette's The Steakhouse
Lovers of Art deco elegance, premium quality steaks and fine wines will be delighted by the imminent arrival of Babette's The Steakhouse Bangkok, an intimate 1920s Chicago style eatery on the 19th floor of the award winning Hotel Muse Bangkok. Babette's The Steakhouse Bangkok invites diners to experience a memorable meal of the best Australian, American and Japanese steaks served in setting of casual elegance.
Pricing: sher wagyu tenderloin beef steak – 200g (fried potatoes, foie gras, summer truffle) 1,859B929.50B | beef ribs (slow cooked, sweet and spicy glazed served with roast potatoes and aioli) 1,100B550B
50% off slots:
Mon-Thurs 12:00-18:00 | 21:00-22:00
Friday 12:00-14:00 | 21:30-22:00
Sat 14:00 | 21:30 | 22:00
Sun 14:00 | 18:00 | 21:00-22:00
Benihana
It is fun to watch the energetic chef works like a talented magician by slicing, sizzling or searing the meat and vegetables to perfection before serving them very hot from the iron plate. Chef's recommendations include grilled scallops, Japanese Wagyu beef A4, signature sashimi, and foie gras. Benihana is the world-famous Japanese steakhouse chain where only premium ingredients are selected and the ambiance is no less impressive.
Pricing: benihana's sizzling new teppanyaki weekend brunch (oysters, sushi, sashimi and tepanyaki set) 790B 395B
50% off slots:
Mon-Thurs 18:00 | 18:30 | 21:30 | 22:00
Fri-Sun 21:30 | 22:00
Nami Teppanyaki Steakhouse
With fire and flash, Nami Teppanyaki Steakhouse serves up authentic Japanese teppanyaki dishes in a cool, contemporary environment. Diners watch as talented chefs prepare their meal to their exact specifications right in front of them. A varied menu, highlighted by special imported cuts of wagyu and seafood, in addition to local options, offers something for all diners, and special set menus are available to help pair courses to perfection.
Pricing: australian wagyu striploin (200g) 2,800B 1,400B
50% off slots: 21:30 | 22:00
Madison Restaurant
The chefs here tempt with a discerning menu of exquisite seafood and prime meat dishes. Select a premium Darling Downs Wagyu grain fed 150 day steak or treat yourself to a piece of purebred Wagyu marble No. 9 or No. 11 from our Master Kobe collection – grilled to perfection over charcoal. Prefer surf to turf? Grab a Boston lobster or Atlantic sea bass fillet with steamed asparagus or garlic mashed potatoes. Finish off the evening in style with our flaming Baked Alaska and a glass of port.
Pricing: glenmorangietm beef tartare – flavored with 12 year old glenmorangie whisky 1,200B 600B
50% off slots: 21:30 | 22:00
The District Grill Room and Bar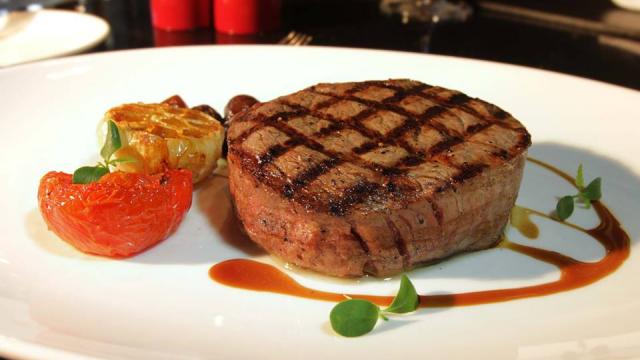 The District is inspired by the Meatpacking District in New York City. Not only does The District offer customers with a diverse selection of grills from the menu with an open kitchen, the main course features delicious cuts of 'Diamantina Angus' from the gulf of north Queensland Australia and served with a wide variety of sauces to choose from.
Pricing: stockyard black angus australian sirloin 240 g. 1,420B 710B | usda prime angus rib eye 300 g. 1,890B 945B
50% off slots: 5:00pm | 5:30pm
Prime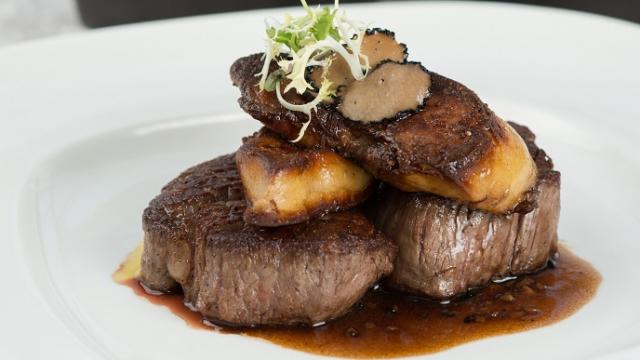 For the 8th consecutive year, PRIME Restaurant has been awarded as Thailand's Best Restaurant. A classy contemporary restaurant, Prime lives up to its name with all this plus top cuts of lamb, fresh salads, sauces and classic accompaniments for every dish. The unique in Bangkok wood-fired grill only makes it all tastier.
Pricing: roasted beef kings or queens cut 1,750B 875B | miyazaki japanese beef 3,999B 1,999.50B
50% off slots: 21:30 | 22:00
New York Style Steak & Burger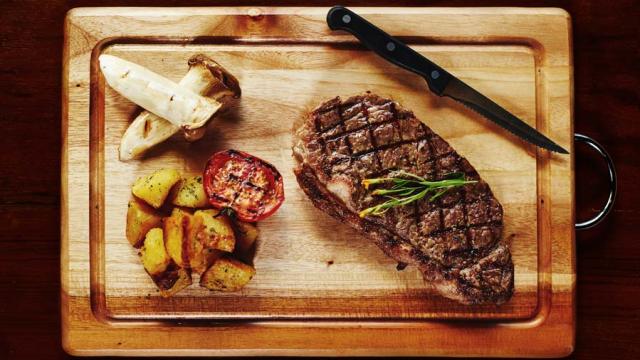 A restaurant experience that initially wowed diners in Shanghai and then Beijing is now doing the same in the Thai capital following the opening of New York Style Steak & Burger – the buzz- worthy creation of a born-and-bred New York native. It is a recipe of international success born of a desire to serve the highest quality, best-tasting burgers and steaks at a real-value price and in a contemporary urban chic atmosphere in keeping with Park 22, the stylish new complex it is located in. New York Style Steak & Burger is owned and managed by former model, Thai cooking and catering expert and self-confessed "steak freak" Khun Naalinlat, better known as Lina. She has employed a business model where attention to detail, getting the little things right, is key.
Pricing: rib eye (usda cab) – highly marbled; (350g) 1,650B 825B | tenderloin (usda cab) – (250g) 1,750B 875B
50% off slots: 15:00 | 15:30
Soraya Japanese Steak & Izakaya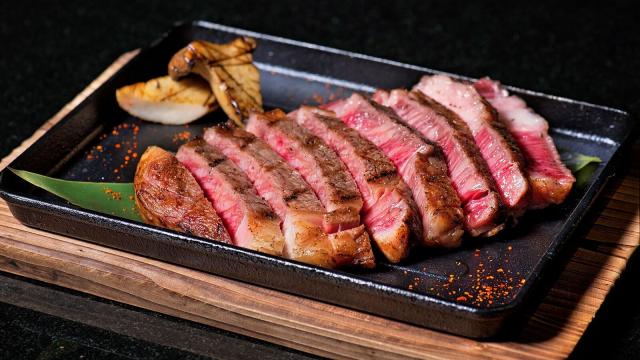 Soraya Japanese Steak & Izakaya, a modern Japanese restaurant, is located at Bangkok's downtown – Silom. The restaurant specialises in creating original Japanese charcoal grill steaks with a wide array of meats; from wagyu beef to Australian beef, they will never make you dissatisfy. However, if you are not a beef lover, there are other meats offered including pork, lamb, fish and lobster. Besides, you can enjoy with a wide array of drinks imported directly from Japan such as Uno Sake, Single Malt and many more. This is definitely a great hanging out spot suited to have a chilling night with friends or a perfect dining experience with family.
Pricing: wagyu tataki (charcoal seared wagyu beef sashimi with chilli daikon, garlic and ponzu) 1,200B 600B | curry rice wagyu beef 270B 135B
50% off slots:
Mon-Fri 12:00 | 12:30 | 18:30-19:00
Sat 18:30-20:00
Tenderloins @ Sukhumvit 33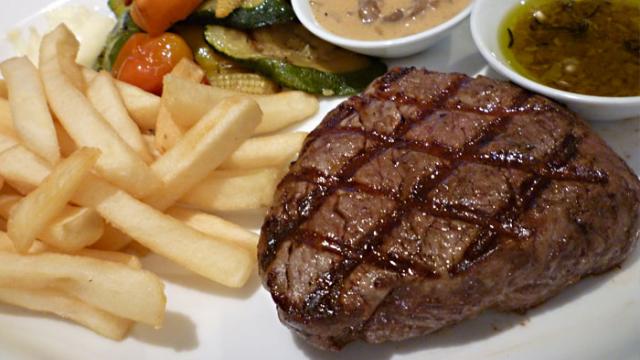 Tenderloins Steakhouse and Sports Bar is an upscale sports bar, located in Sukhumvit Soi 33, specializing in choice cut steaks and exclusive imported wines. The restaurant offers live sports with multiple screen points, available for live functions, and strives constantly to offer the best Western food.
Pricing: angus tenderloins steak 1,500B 750B
50% off slots:
Mon 11:00 | 22:00 Tue 22:30 | 23:00
Wed 14:00 | 21:00 Thur 15:30 | 21:00
Fri 11:00 | 23:30 Sat 10:00 | 23:30 Sun 10:30 | 20:30
Outback Steakhouse
With a new store opened in Bangkok, expats who pass through Siam Square but undecided about what to eat around there can try this bistro's fantastic dishes on offer. Delights such as their tasty fried chicken wings, soups of different kinds and dolly fish steak are some recommended dishes. Its signature dish called Typhoon Bloom is a renowned delicacy, popular with both frequent customers and international passers-by.
Pricing: black pepper steak 649B 324.50B
50% off slots: 11:00 | 21:00