9 cheesy dishes that will melt your heart!
Do you love how the cheese on your pizza stretches and pulls apart with each bite you take? Or the sight of melted mozzarella on food? Or is the idea of dipping everything into cheese more appealing than dipping them in chocolate?
If you love cheese as much as we do, you'll love our list of dining spots that will satisfy every cheese lover. Check them out here!
Hook On Steamboat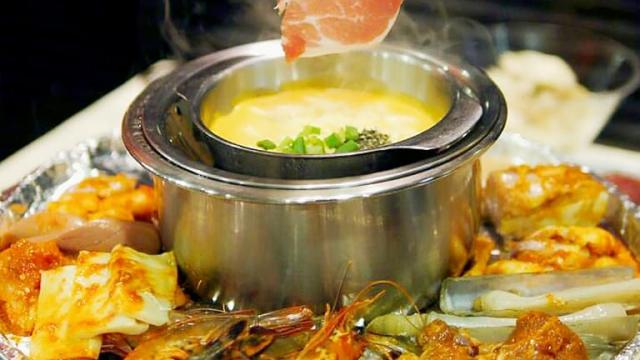 With hotpot dining getting increasingly popular, it's getting hard to choose which one to go for. Instead of having to choose, Hook On Steamboat gives diners all. The buffet spread offers every hotpot variety imaginable, from mookata and shabu shabu to traditional steamboat. Also available is a Swiss-style cheese fondue hotpot – a first in Singapore. Diners get regular hotpot ingredients to enjoy with their selected broth, such as succulent meats, veggies, mushrooms and fresh seafood.
Recommended items: deluxe lunch buffet (Mon–Fri) $18.90 $9.45
50% slots: 15:30 | 21:30
Patbingsoo Korean Dining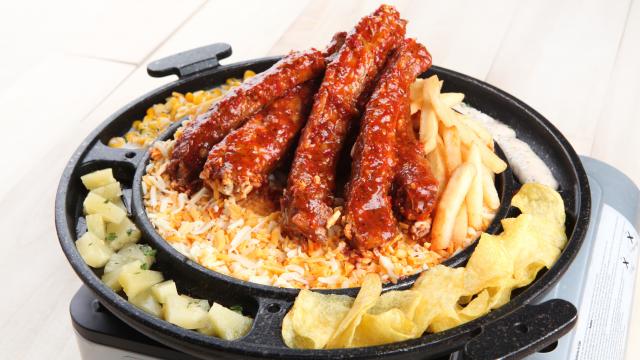 Patbingsoo offers all the classic Korean dishes. For all the fans of cheese there, their rolling cheese pork ribs is the absolute must-try. Coming served with sweet corn in cream, chopped pineapple and fries, the pork ribs come served on a bed of mozzarella and cheddar cheese in a Korean cast iron pan. The pan melts the cheese to achieve a stringy texture, which diners can then roll the ribs around in before taking a bite of heaven.
Recommended items: rolling cheese pork ribs $38.90 $19.45
50% slots: 15:00 – 15:30
Hansul Korean Restaurant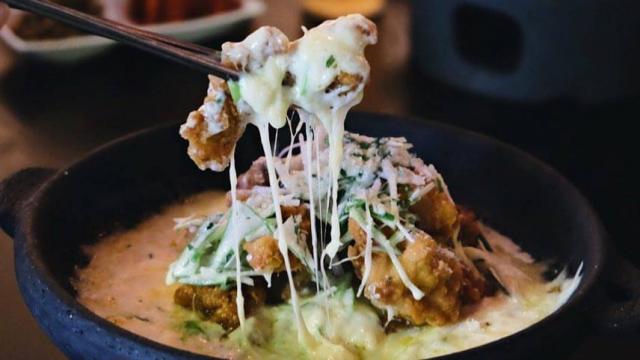 Meaning 'bottoms up' in Korean, Hansul is a restaurant that also has a Korean-styled bar, aiming to provide an authentic Korean drinking and dining experience. Located at 21 Tanjong Pagar Road, the restaurant offers favourites like snow cheese chicken bumbuk, budae jjigae and ginseng chicken soup. The former has generous amounts of shaved cheese over the chicken, with guaranteed satisfaction in every bite.
Recommended items: snow cheese chicken bumbuk $33.90 $16.95
50% slots: 15:00 – 17:00
Wine Connection Cheese Bar @ Robertson Walk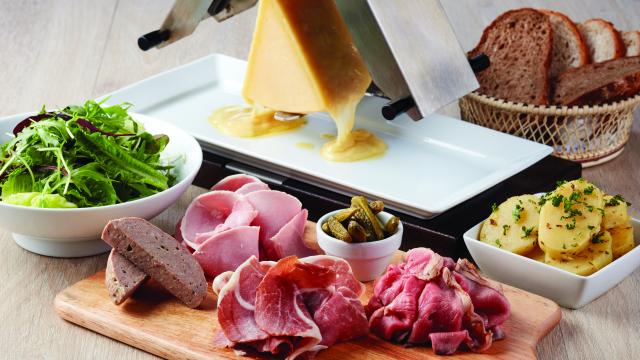 Established in Bangkok in 1998, Wine Connection is the leading chain of wine shops and wine-themed restaurants in southeast Asia. A dedicated team of experts taste more than 2,000 vinos yearly to bring the best gems to diners, with a vineyard-to- consumer system ensuring they come at great savings. A selection of over 40 matured farm cheeses is air- flown from Europe weekly and available for take-away and dine-in. The menu is created around cheese, naturally offering a variety of hearty salads and 'tartines' (open sandwiches), as well as cheese & cold cuts platters tailor-made to your desires. Their signature dish here is Raclette, which is great for sharing with friends.
Recommended items: Raclette $42 $21
50% slots: 16:00 | 16:30
PastaMania @ West mall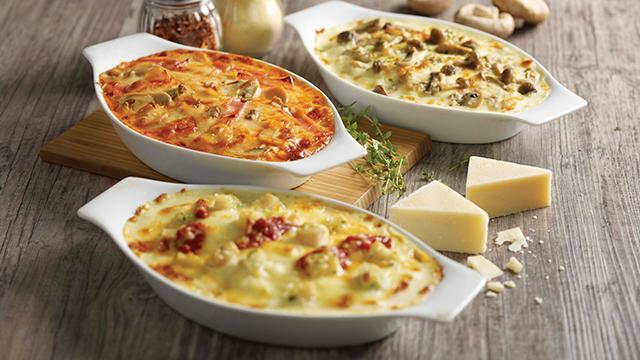 PastaMania offers authentic, affordable Italian cuisine in a casual dining environment. In an ambience modelled after an Italian pizza, pasta dishes here are prepared a la minute to ensure a consistently fresh and flavoursome experience with every plate of pasta served. Cheesy choices here include al funghi pasta and the dory baked rice.
Recommended items: dory baked rice $9.90 $4.95
50% slots: 16:00 | 16:30
Seorae Korean Charcoal BBQ
The history of Seorae dates back to Korean monarchs of old, when royal families demanded perfection, where the best quality ingredients were used. The highest quality meat served was galmaegisal, skirt meat that has the perfect combination of tenderness and juiciness. Here, the galmaegisal comes served on a grill, surrounded by a moat of fried kimchi, steamed egg and melted cheese. The meats are already delicious on its own, but dip it into the cheesy mixture to bring your taste buds to a whole different level.
Recommended items: galmaegisal $21.90 $10.95
50% slots: 15:00 | 15:30
Little Diner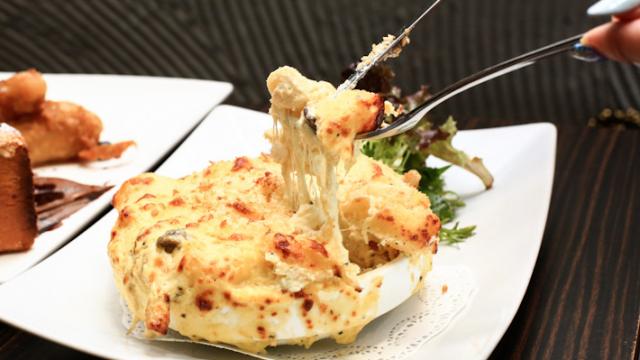 Amidst the lush greenery of Bukit Timah lies Little Diner, a comfortable respite from the everyday hustle and bustle. With a double-storey restaurant and bar, it isn't exactly little, but Little Diner encourages guests to hang around even after finishing their meal. Must-try cheesy items include their old school mac & cheese. There is a 4.7m tall wine rack, holding more than 950 wines to be enjoyed with your food.
Recommended items: mac & cheese $16.50 $8.25
50% slots: 11:30 | 14:00 | 16:00 – 16:30
Sarpino's @ Bukit Timah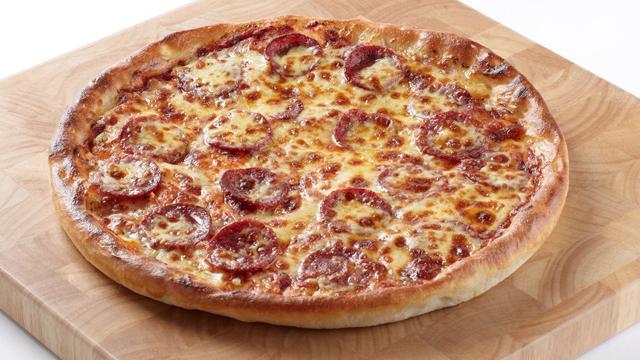 It's a pizza joint so you'll know you'll have plenty of that cheesy goodness regardless of what you order. From the classic Margherita pizza to the pepperoni pizza, every pie here is topped off with lots of cheese. If you'd prefer JUST cheese without any toppings to distract you from it, Sarpino's also offers a cheese pizza, where all you get is 100% Italian mozzarella cheese.
Recommended items: 12-inch pepperoni pizza $27.80 $13.90
50% slots: 17:00 | 17:30
Flavour Flings
Flavour Flings gets guests in touch with nature, with its décor using a combination of pebbles, gravel, wood, bricks and grass for its eco setup. Head chef Shawn, an alumnus of the Culinary Institute of America goes for all-day modern American and French fare. As far as cheesy dishes go, their best one here is the beef steak & raclette, with the perfect combination of succulent meat underneath a layer of melted cheese.
Recommended items: beef steak & raclette $24.90 $12.45
50% slots: 9:30 – 10:30 | 11:30 | 14:00