9 Sea-riously satisfying seafood places you have to try!
If there is a type of food that can serve as the world's unifying national dish, it is seafood. It has always among, if not the main draw at any given restaurant and cuisine type.
Going to a fancy bar? They've got freshly shucked oysters. Having hotpot tonight? Fresh prawns. Weekend buffet? Alaskan king crabs. British pub? Fish and chips. Chic French bistro? Pan-seared salmon.
What's not to love about it? Delicious, yet healthy and high in protein, seafood. If you love seafood as much as we do, check out these 9 places on eatigo with sea-riously satisfying seafood.
Talay Thai
Talay Thai on River Valley Road has the unique claim of being one of very few Thai tapas restaurants in Singapore. Its interiors sport an untamed raw personality with its neon display, rustic brick walls and traditional Thai furnishing. The selection of tapas here includes the lobster bisque and nam pla prawn ceviche, where its sweet, fresh prawns are complemented by its accompanying umami and condiments.
Recommended items: lobster bisque $14 $7 | nam pla prawn ceviche $16 $8
50% slots: 12:00 – 12:30 | 14:30 – 17:00
Home of Seafood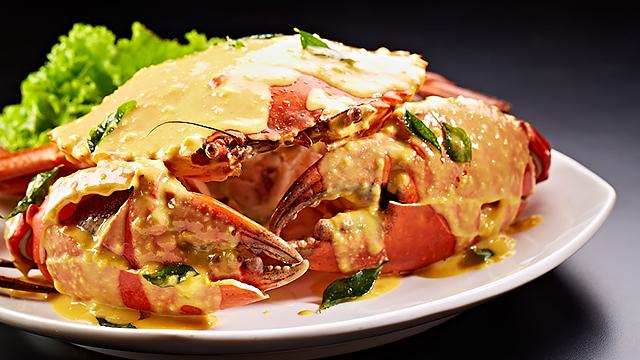 Located at Joo Chiat Place, Home of Seafood is a heaven for all seafood lovers. Known for its delicious offerings like coffee chicken, seafood in a bag and fragrant butter prawns, the restaurant is a winner of the 2013 Singapore Favourite Food award. The halal-certified Home of Seafood also has spaces for large groups, with private rooms available for reservations.
Recommended items: coffee chicken $24 $12 | seafood in a bag $78 $39
50% slots: 11:00 – 11:30
Wood & Steel Gastrobar (Stewords Riverboat)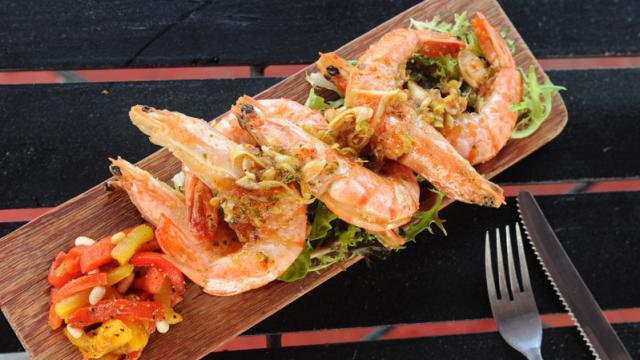 Located on the al-fresco Bridge Deck of Stewords Riverboat, Wood & Steel Gastrobar offers an unparalleled view of the Singapore skyline at night. There is an extensive spread of international dishes such as Ocean's Five and Salmon Like You. There is alspo an island bar counter a variety of spirits, cocktails and craft beer to enjoy with your food. Go on a Friday or Saturday evening and you'll have live entertainment accompanying you.
Recommended items: ocean's five $89 $44.50 | salmon like you $26 $13
50% slots: 21:00 – 22:00
The Manhattan Fish Market @ Plaza Singapura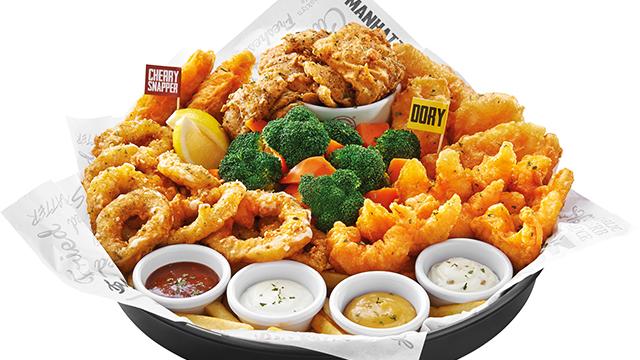 At The Manhattan Fish Market, guests are served with lip-smacking, American-style seafood, such as the famous Manhattan Fish n' Chips, garlic herb mussels and the legendary Manhattan Flaming Seafood Platter. The front-of-house team is affectionately known as Sea-cret Agents and they channel their passion, energy and dedication into ensuring that every guest has a satisfying dining experience. The Manhattan FISH MARKET is also widely known to enthral and whet guests' appetite with on-the-spot flaming of the Manhattan Flaming Prawns.
Recommended items: manhattan fish 'n chips $12.97 $6.47 | manhattan flaming seafood platter $38.95 $19.47
50% slots: 11:00 | 21:00
Umi+Vino Seafood Wine Bar @ Emporium Shokuhin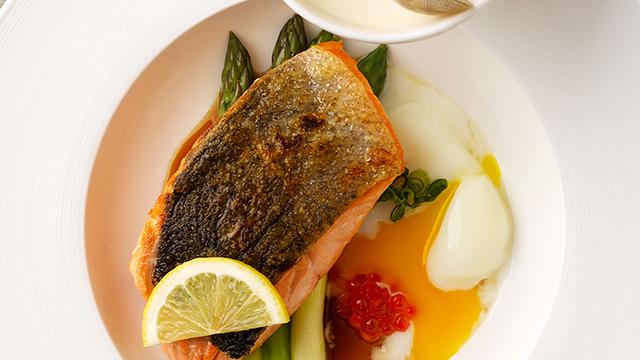 Emporium Shokuhin is a combination of live seafood market, dry-aging beef facility, a Japanese gourmet grocer and Japanese dining all in a single venue. Umi+Vino Seafood Wine Bar brings sparkling wines and fresh seafood housed within a contemporary European-Japanese restaurant. From live French oysters to little neck clams in white wine broth, diners here are spoilt for choice. Wash all that seafood goodness down with their wide variety of Japanese whiskies, sakes and award-winning sparkling wines.
Recommended items: live french oysters $8 $4 | little neck clams in white wine broth $18 $9
50% slots: 11:30 | 14:00 | 17:00 | 21:00
Hot Stones Steak & Seafood
Hot Stones has been delighting diners in Singapore since 1992, and has garnered a loyal following through the years. The dining concept here allows you to cook your meats and seafood on serpentine volcanic stone slabs. This technique seals the flavours surprisingly well, making Hot Stones one of our favourite haunts for a carnivorous meal. Expect the freshest selection of Tajima wagyu sirloin, US Kurobuta pork and succulent seafood when you dine here.
Recommended items: tajima wagyu sirloin $92 $46 | us kurobuta pork $42 $21
50% slots: 12:00 – 14:00 | 17:00 – 18:00
Fremantle Seafood Market
Nestled by the idyllic Singapore River at Clarke Quay, Fremantle Seafood Market draws its inspiration from Australia's gastronomic wonders and exciting seafood scene. The menu features a variety of seafood from the Atlantic to the Pacific Oceans, flown in thrice weekly. The Make Merry chilled seafood platter here are definite must-trys for seafood lovers – these platters are loaded with the freshest seafood that range from oysters and sashimi, to king crabs and Maine lobster.
Recommended items: whole lobster thermidor $72 $36 | make merry chilled seafood platter $128$64
50% slots: 12:00 – 17:00
Wharf Grill & Bar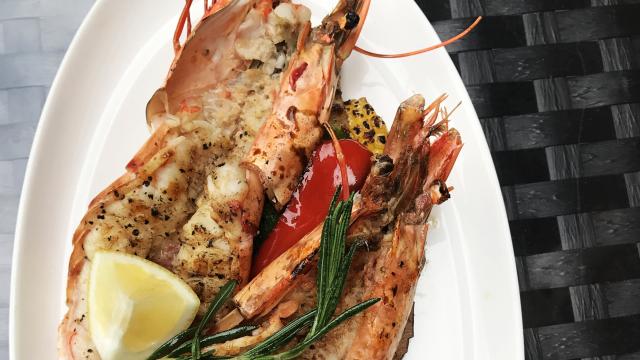 First established in Singapore in 2012 along Robertson Quay, Wharf Grill & Bar offers a relaxing ambience that is perfect for intimate dinners and after-work drinks. Seafood lovers must try their jumbo shrimp and saikyo miso black cod, while those who love meat can enjoy the tomahawk beef chop steak. They also have a second outlet at CHIJMES for those in the City Hall area.
Recommended items: jumbo shrimp $38 $19 | saikyo miso black cod $30 $15
50% slots: 17:00 – 17:30
Catch Beer & Batter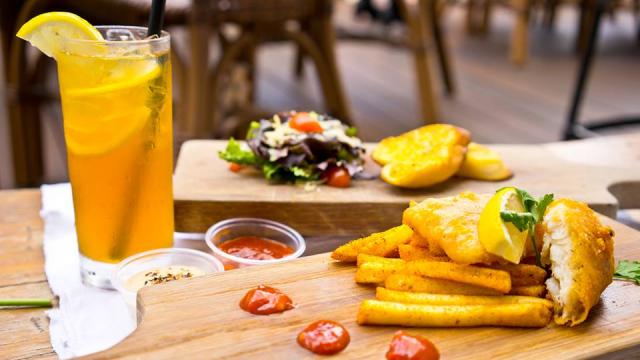 Found along Clarke Quay, Catch Beer & Batter offers good ol' British nosh. They do classics like the sliders quatro, with options for fresh seafood and pasta, like golden calamari and mushroom truffle alfredo. If you're looking for the true taste of great British food, one needs to look no further than their signature fish & chips, halibut served with oh so crispy chips.
Recommended items: sliders quatro $32 $16 | signature fish & chips $25 $12.50
50% slots: 17:00 – 17:30