Bollywood? Sports? Chinese?
In a world that is full of uniqueness, why shouldn't restaurants be any different?! Like, everyone gives great food, good ambience and good service. Where's the extra part? So, here's a list of some places that have the very 'extra' factor that you're looking for. Explore through this plethora of themed restaurants where you can find everything from jail cells to bollywood walls. It will be fun!
*Prices and 50%off slots are subject to change without further notice.
Tasse De The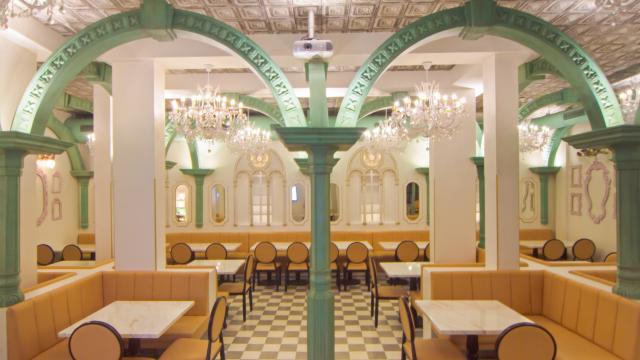 Tasse de The is a French expression that literally means a cup of tea. But this restaurant located in Fort is so much more than just tea! It is a fine dining place serving Italian, American and Mexican cuisines and it is perfect for the vegetarian food enthusiast with a taste for elegant places. They have a 9-course meal –nan adorable spread!
Recommended items: matcha smoothie bowl ₹597 ₹298.5 american tortilla pizza ₹497 ₹248.5
50% slots: (Mon- Sun) 08:00 (Fri- Sun) 17:30 (Mon-Thu) 18:00
Mezzo Veg Lounge
With a refreshing ambiance, there's a open outdoor area which is lit up very well and is totally recommended for love birds as well as families looking to have a great time. Starting from the Continental to Chinese to Indian food you have to just name it and everything would be available. There are a lot of spots to take pictures with the scenic backgrounds and white flower trees! Moreover we recommend this place for the best service offered, very prompt and friendly.
Recommended items: bruchettas ₹270 ₹135 | body builder salad ₹260 ₹130
50% slots: 17:00 | 17:30
Pranzi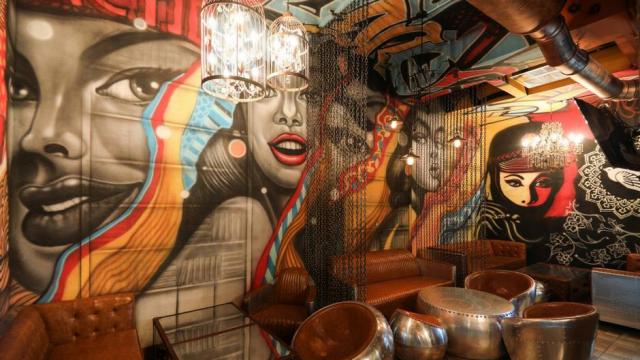 Pranzi, which literally means 'going to lunch' in Italian, is the most befitting name given to this Italian restaurant located in Khar West, right across the Madness Club. Divided in two parts, with one entire area dedicated to hookah and the other to fine dining, the place has an amazing look and feel. Leather couches, wooden ceilings and metallic murals have made this place as amazing as it can be. If you want to eat your way through pizzas, there cannot be a better place!
Recommended items: loaded truffle fries, fontal cheese ₹220 ₹110 | cajun spiced paneer steak ₹650₹325
50% slots: 11:00 | 11:30
Talaiva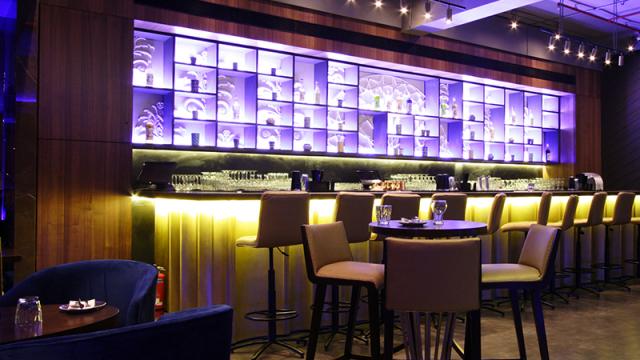 The Kamala Mills Compound in Lower Parel houses some of the most amazing restaurants in Mumbai. In terms of cuisine variety, this place is truly a wonderland, and adding more flavors to it is Talaiva, a Continental restaurant with a regal theme that will leave you stunned. The food and the ambience work together to give you a never-before experience that is sure to win your heart!
Recommended items: beet galouti ₹350 ₹175 | murgh bikaneri tikka ₹380 ₹190
50% slots: 12:30 | 15:30
Tanatan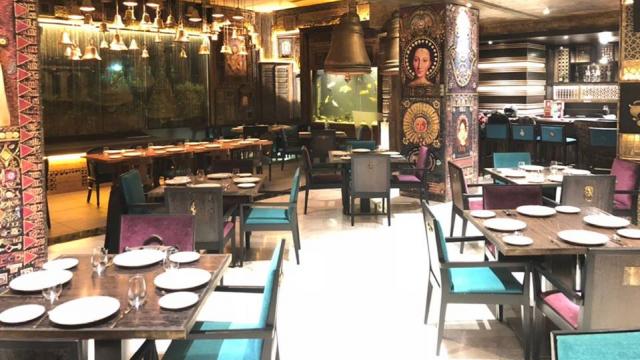 A casual dining place with a loaded bar, Tanatan, located in Juhu, is the answer to all your questions that resonate to 'What do we do this evening?' Of course you go to Tanatan. The décor of the place has been done very tastefully and if you look closely, you can find the trails of various cultures in the interiors. Have the Mirza Sahab ke Gosht ke Kebabs, you'll fall.
Recommended items: palak dahi ke kebab ₹275 ₹137.5 | murg bharwaan lahori ₹345 ₹172.5
50% slots: 16:00 | 16:30 | 17:00 | 17:30
Pakka Local Bar
Pakka Local is a bar cum lounge located in Marol, and is pretty famous for its very, very tasty and interesting spread of finger food. If we told you that there exists a place in this huge city where people end up like zombies just to get their hands on potato wedges, you'd think we're crazy but then we'd know that you haven't seen the Pakka Local Bar yet.
Recommended items: mutton shorba ₹225 ₹112.5 | darbaari mushrooms ₹255 ₹127.5
50% slots: 12:00 | 12:30 | 13:00 | 13:30
Cafe Hydro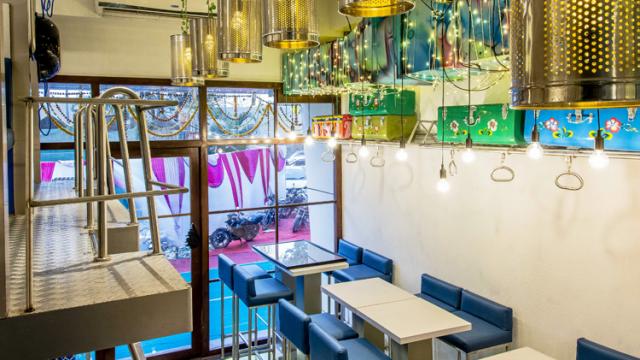 Why go only for food when you can go for both food and fantasy? No, that's not something Gordon Ramsay said, that's what we are saying, after looking at this restaurant in Borivali East. Café Hydro, serving Asian cuisine, has become one of the most popular restaurants in the area because of its thematic seating arrangements – the Indian Railway, the Aquarium, and the Bhartiya Baithak. The newspaper-like menu will leave you baffled about what to pick, but the Mumbai Bao should definitely be on your list.
Recommended items: non veg burgest ₹390 ₹195 | vietnamese fresh spring roll ₹170 ₹85
50% slots: (Mon- Sun) 12:00 (Sat & Sun) 12:30 (Mon- Fri) 15:00
Mi Hi Koli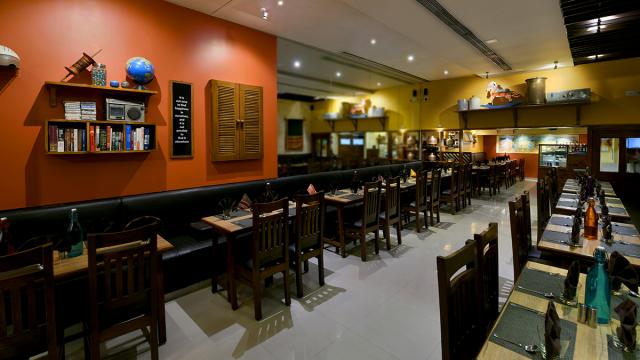 Craving Coastal food? Mi hi Koli will make you happy when you munch on the prawns, crabs and crunchy fish appetizers. This place is based on the Koli, people who have been bringing the fresh sea produce every day. Mi hi Koli serves you best seafood in the town. khekda masala, fish curries, butter garlic prawns, solkadhi, surami and bombil Fry are few things you should try out here. If you have fish on the mind don't go fishing go to Mi hi Koli.
Recommended items: khekda masala ₹310 ₹155 | surmai curry ₹310 ₹155
50% slots: 11:00 | 19:00
Pair a Dice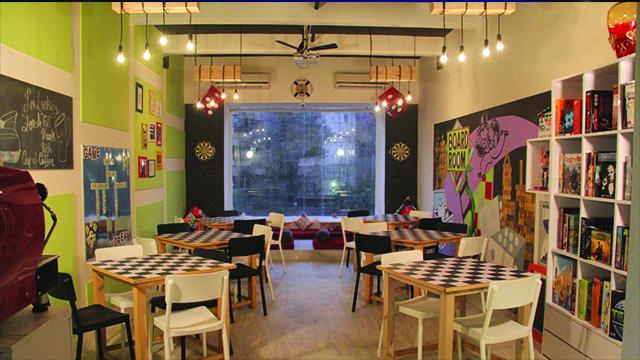 In Mumbai, small places often end up giving you the best experiences. Pair a Dice Café is undoubtedly one such restaurant. The concept they have devised for the place is beyond words. You can literally just sit with your friends here and play games all day long, without a care in the world. Do try their Mushroom Feta while you're playing Risk with your buddies.
Recommended items: penne al pesto with brocolli & bellpeppers ₹250 ₹125 | chef's special pizza ₹295 ₹147.5
50% slots: (Tue- Sun) 12:30 (Sat & Sun) 13:00 (Mon) 14:00 (Mon- Fri) 16:30