Dining with a view
Views have always been appealing and intriguing for many of us. From marvelling at nature's wonders to watching a city operate beneath you, there's nothing quite like surveying the world below you like you're king of the world.
Whether it's Bangkok's Baiyoke Sky Hotel, Singapore's Marina Bay Sands, KL's Petronas Towers or Hong Kong's International Commerce Centre, rooftop establishments have always been a huge draw, even if it does cost a pretty penny to get to the top.
At these restaurants, you don't just get to enjoy gorgeous views, but also enjoy top cuisine with first-rate service. The best part? You'll get discounts off your entire food bill of up to 50% when you make a reservation with eatigo.
Vogue Lounge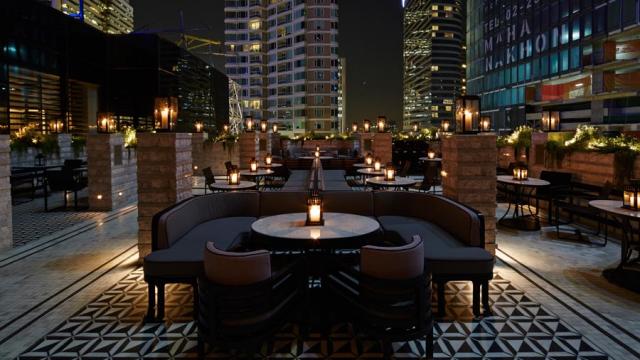 Located at MahaNakhon CUBE Bangkok, Chongnonsi, VOGUE Lounge is a super chic club-style restaurant which combines all-day dining and great music in a new exclusive environment. You can enjoy superb taste created by a former 3 Michelin star chef Vincent Thierry and indulge in special drinks created by highly experienced mixologist Hideyuki Saito from Nagoya, Japan.
Pricing: salmon cone with horseradish and salmon eggs 450B 225B | fried lobster ravioli in soup with pumpkin gnocchi 590B 295B
50% off slots:
Sun – Thu 21:30 | 22:00
Fri – Sat 22:30 | 23:00
The Speakeasy Rooftop Bar @ Hotel Muse
Back to America in the 1920's a secret lay shrouded in fog; under the watchful eye of law enforcement at that time,'speak easy' became the secret key to breaking into another world; a world full of joy, glamour and scintillating conversation – a place where secrets were revealed. The atmosphere merges an internationally-inspired food-and-drink concept with Asian influences at this exclusive Bangkok Rooftop Bar with top-shelf spirits and a large selection of wines including vintage cocktails created by experienced mixologist served while guests enjoy the panoramic view and the vibe of Bangkok.
Pricing: salmon teriyaki with thai steamed rice 630B 315B | garlic prawns served with garlic bread 260B 130B
50% off slots:
Sun – Thu 18:00 | 21:00 | 21:30 | 22:000
Fri – Sat 21:30 | 22:00
Cru Champagne Bar at Red Sky @ Central Grand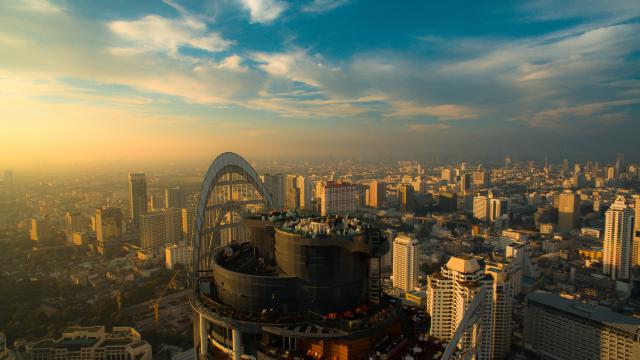 Cru Champagne Bar at Red Sky is a welcome escape from the everyday, meeting your standards of sophistication without being overly pretentious. Elevating your after hours as you sit back and relax, in the airy breeze of freedom, living life up in a piece of the Bangkok skyscape as if it were your own.
Pricing: taste of the caspian sea (30 grams royal beluga caviar) 7,800B 1,400B | wagyu kashima 1,150B 590B
50% off slots: 17:00 | 17:30 | 23:30
HI-SO Rooftop Bar @ SO Sofitel Bangkok
A stairway to the city's hottest parties, HI-SO rooftop bar has all the makings of an instant classic social hive for Bangkok's young execs and fashionable visitors. It's the place to be, and the place to be seen. Different beats for different nights: Weekly themed nights bring together ladies, gents, jazz lovers and industry insiders for a weekly social shindig. A lively ambiance is curated with yummy nibbles and tipples served against a striking park-and-skyline backdrop.
Pricing: parma ham pizza 450B 225B | black angus beef burger with smoked bacon, cheese, home made fries and fried egg 550B 275B
50% off slots:
Mon – Tue, Thu, Sun 18:00 | 18:30
Wed 19:00 | 19:30
Fri – Sat 17:00 | 17:30
Sala Rattanakosin Rooftop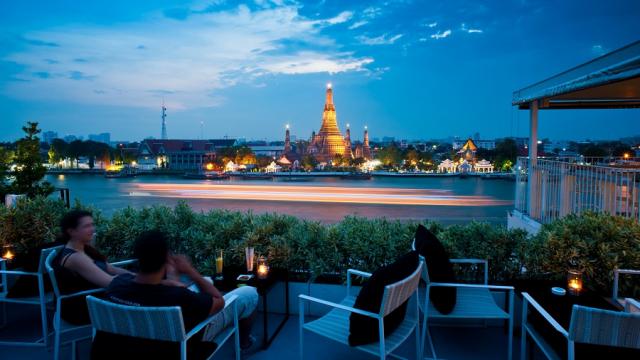 Sala Rattanakosin Rooftop Bar is a scenic, riverfront dining option, overlooking the legendary Chao Phraya River and the mystical temple of dawn serving international fare. This rooftop bar and terrace in Bangkok provides idyllic riverfront setting to relax with a cold beverage at the end of a wonderful sightseeing day. At sala rattanakosin, they always make sure that guests will have a memorable experience as they enjoy various food and the wine bar.
Pricing: mini angus beef burger 199B 99.50B | tuna tartare baskets 199B 99.50B
50% off slots: 21:00 | 21:30
Silver Waves @ Chatrium Hotel Riverside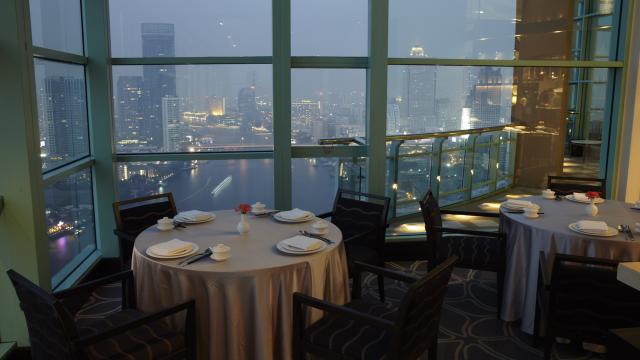 Dine literally above the Chao Phraya River at the stunning Silver Waves – perched on the 36th floor with breathtaking views. The river-inspired décor and authentic live entertainment provide a truly immersive culinary experience for you to indulge in the flavours of the place's Chinese delights. Taste our all-you-can-eat homemade dim sum delicacies, Silver Waves' signature tea-infused Peking duck, Chinese tapas and other mouthwatering dishes, each with their own modern twist prepared by Silver Waves' master Chinese chef.
Pricing: dim sum lunch buffet 11:30-14:30 699B 349.50B
50% off slots:
Mon – Fri 13:00 | 21:00
Sun – Sat 21:00 | 21:30
The Roof – Siam@Siam Design Hotel Bangkok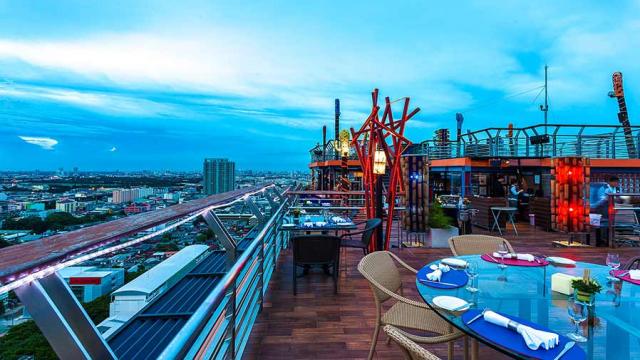 The Roof offers a variety of international dishes made from the world's finest ingredients. Food is freshly cooked on volcanic stones which can retain the heat for a period of 20-minute cooking, with the inside temperature exceeding 400 degrees Celsius, "a hot stone grill" dining experience. This multi-level restaurant provides every seat on the roof top experience with remarkable angles of Bangkok by night.
Pricing: australia rib- eye (240 g) 1,200B 600B | norway salmon fillet (240 g) 700B 350B
50% off slots:
Sun – Thu 21:00 | 21:30 | 22:00
Fri – Sat 21:30 | 22:00
Skyline @ AVANI Riverside Bangkok
A truly dining with a view experience, tuck into a range of bold Thai and international flavours at Skyline. Breakfast, lunch and dinner with an amazing view of the River of Kings. Salad spreads, mouthwatering curries, fresh seafood and more. Don't forget about the dessert table!
Pricing: thai-international lunch buffet 650B 325B | indian dinner buffet including soft drink and juices 18.00 – 22.30 (saturday only) 1,200B 600B
50% off slots:
Mon – Fri 12:00 | 14:00
Sat 18:00 | 21:30
Top Knot Rooftop Bar & Restaurant @ Hotel Once
Savor an array of sumptuous menus recommended by experienced Chef, along with this unrivaled rooftop view of the panoramic Chao Phraya River running roughly in parallel with the enticing city view of Bangkok. Stunning sights, which await you right at the edge of the spacious balcony, are one of the definitive to-dos at Once. A truly distinctive space that offers much more; with a great versatility for a set-up of all spectacular and memorable events, especially for couples thinking about tying the knot.
Pricing: grilled black tiger prawn baby spinach caesar salad 380B 190B | linguine seafood vodka arrabiata 450B 225B
50% off slots:
Mon – Thu 18:00 | 18:30
Fri – Sun 20:30 | 21:00
Chili Hip @ Centara Watergate Hotel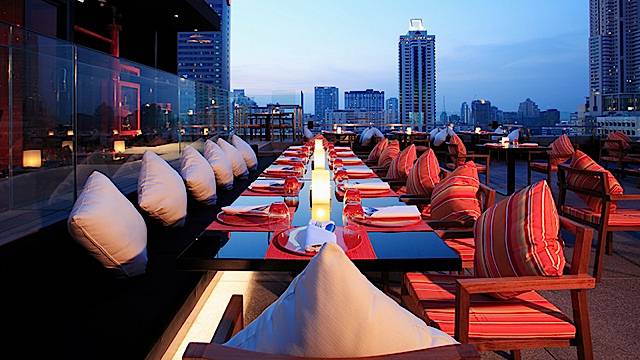 Chili Hip towers 20 floors above the bustling streets of Bangkok and overlooks a magnificent cityscape. For foodies and city-vista lovers, this al fresco outlet is made just for your dining indulgence. In a sophisticated vibe, food here focuses on authentic fusion local flavours and Asian delicacies complimented with an extensive drinks list. Try their Spicy Salmon Tartar for a subtle starter and the Signature Chili Dome (Chocolate mousse with chili and raspberry sauce) to complete the meal, all presented with a creative touch for your viewing pleasure.
Pricing: tartar of fresh salmon with chilli, mint and coriander, served with fried sticky rice cakes 260B130B | hot and spicy river prawns soup with lemongrass and fresh coconut flesh 320B 160B
50% off slots: 17:00 | 17:30 | 18:00 | 18:30 | 22:00 | 22:30