UPDATED: 9 of the best value Chirashi Dons in Singapore
Generous amounts of fresh sashimi and veggies, topped with other ingredients like tamago – all in one rice bowl? Yes please. So much goodies in one bowl is the main reason chirashi dons are such popular items on the menus of Japanese restaurants.
There's no doubting Singaporeans' love for Japanese food. But with so many out there on the tiny island, it's hard to pick out which ones are the best. From the cheapest (at just $8.90 before discount) to the premium priced ones ($79), here's our look at 9 chirashi dons to try on eatigo.
Peace Japanese Cuisine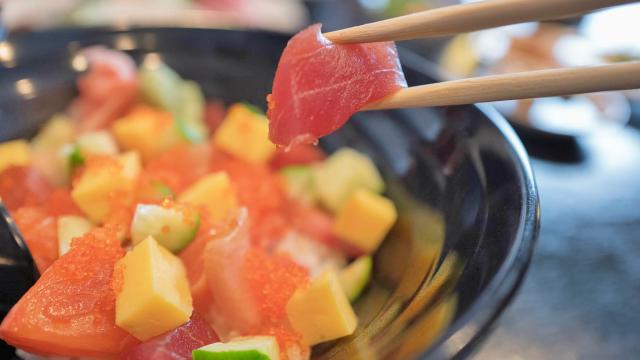 Those living in the western side of Singapore can't complain of having to travel far for their fix of good chirashi don. At Peace, they'll find the Bara Chirashi chocked full of fresh fish, vegetables and the perfect onsen egg.
The kitchen here is helmed by master chef Albert Tay, who has over 35 years of experience serving Japanese cuisine, so diners will know their chirashi don – amongst the many other dishes – oozes quality.
50% slots: 13:30 | 18:00 | 20:30
Panko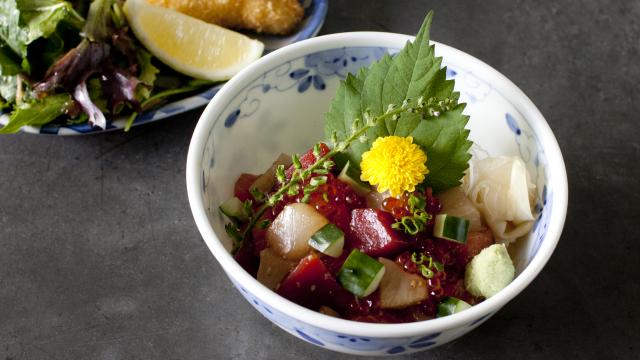 Panko's name is derived from the panko breadcrumbs used to coat the kushikatsu (fried skewers the restaurant specialises in. Apart from their signature skewers, the restaurant also does an excellent Kaisen Bara Chirashi.
and being wallet-friendly at the same time. At $18 from a Michelin-trained chef, it's hard to argue at such value for money.
50% slots: 18:00 | 18:30
Mitsu Sushi Bar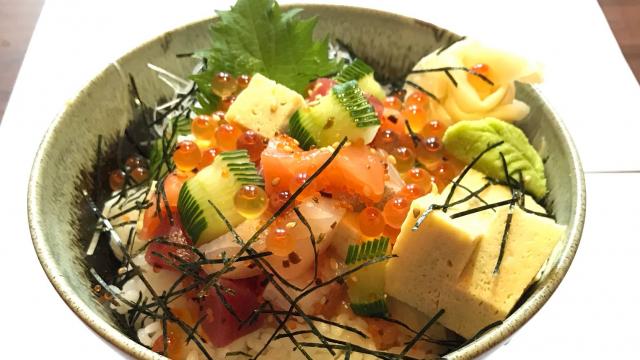 Helmed by chef Mitsuyasu Tatsuro, Mitsu Sushi Bar on Duxton Road offers a variety of Japanese food, from sushi, sashimi, agemono and yakimono. This also includes their Bara Chirashi, where only the freshest fish and ingredients are used.
Mitsu places the highest emphasis on freshness. While most restaurants bring their seafood in from Tokyo's Tsujiki Market twice a week, they do so five times a week. This ensures the fish isn't stored for too long and that every dish served to diners has optimum freshness.
50% slots: 14:00 | 18:00
Jin Fine Dining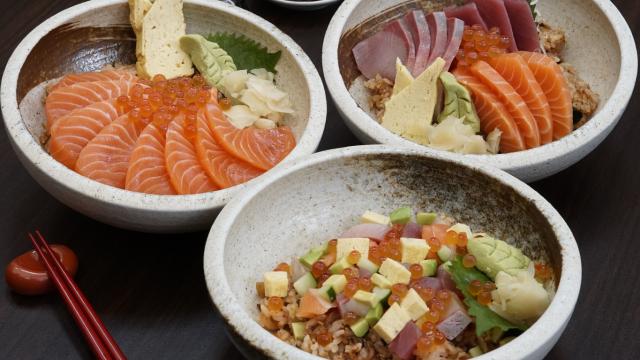 Sequestered in Amoy Hotel is the zen-like Jin Fine Dining, where chef Ray Phun delivers an authentic Japanese dining experience. Using fresh ingredients flown in specially from Japan, the kitchen serves up fresh seafood, with up to 10 types of chirashi dons to choose from. Their signature Jin Chirashihas salmon, maguro (tuna), kanpachi (amberjack), tai (sea bream), amaebi (sweet shrimp), uni (sea urchin), mekajiki (swordfish) and fish roe.
50% slots: 12:00 | 12:30 | 14:00–14:30
Sen of Japan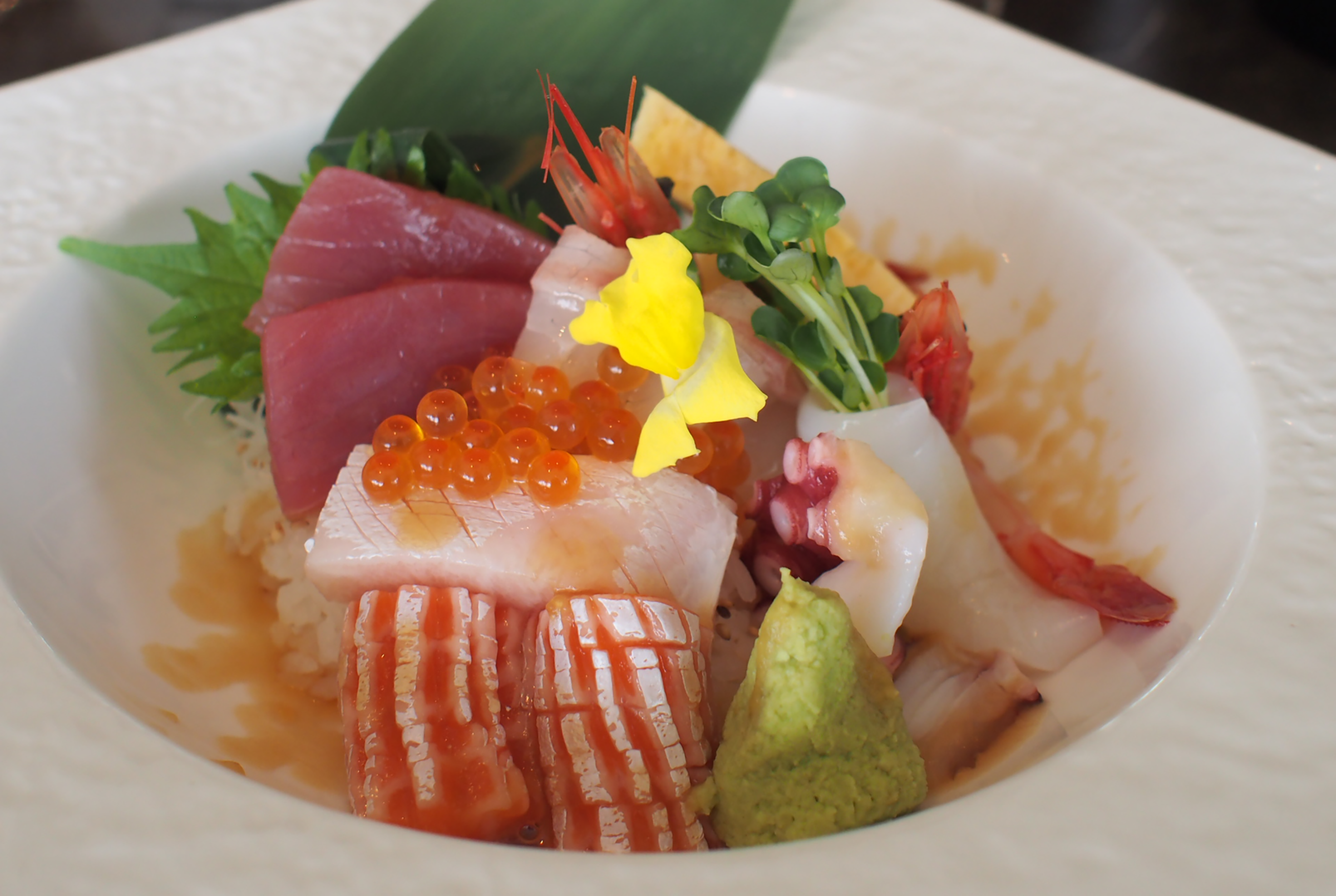 Sen of Japan is a casual dining Japanese restaurant and bar. Located at Marina Bay Sands, the restaurant's menu is designed by chef Nakano Hiromi, who used to head the famous NOBU at the Hard Rock Hotel & Casino in Las Vegas. The curated menu offers modern Japanese cuisine, such as the Premium Chirashi Don, which is only available after 3pm on weekdays and anytime on weekends.
The dish uses red tuna, yellowtail, sea urchin, snapper, tuna belly, grilled eel and Norwegian salmon trout. Sen of Japan only uses the highest grade fish and seafood, all of which contribute to its premium pricing.
For those who really love and appreciate Japanese seafood, this presents an extremely good value, especially more so after eatigo discounts.
50% slots: 14:00 – 16:30 | 17:00
Tenkaichi Restaurant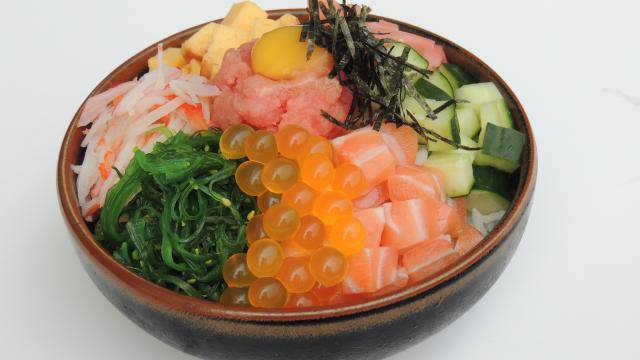 Tenkaichi offers a wide variety of sashimi, scallops and seafood, with the chirashi dons a showcase of their freshness. Aside from that, they also specialise in Japanese wagyu beef yakiniku, with all their beef cuts having a minimum marbling score of at least 7+.
The Mini Chirashi Sushi is a good starting point for someone who isn't sure if they'll enjoy raw seafood. It has the perfect sampling portion and is the only option among those listed here that is below $10.
50% slots: 11:30 | 14:00
Issho | Issho Izakaya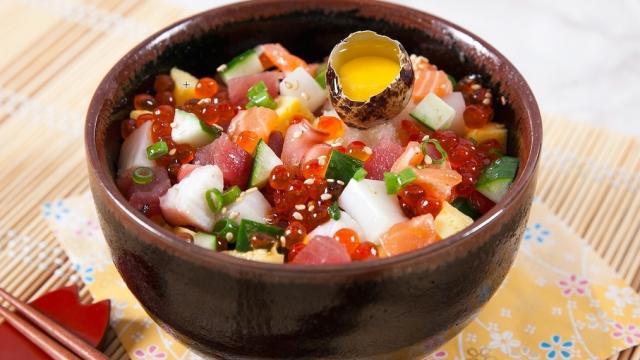 Both Issho & Issho Izakaya have a myriad of traditional Japanese dishes, with plenty of sashimi, dons (rice bowls) and bento sets to go around. To complement your food, the restaurants also have a vast selection of sakes and Japanese beers for diners to choose from.
Both restaurants have two chirashi don bowls: the Bara Chirashi Don and Salmon Ikura Don. The former is the classic chirashi don, with generous portions of fresh Norwegian salmon, Japanese wild big-eye tuna and Japanese amberjack. It also has plenty of toppings such as homemade tamago, raw quail egg and their homemade sweet shoyu dressing.
The latter is a more simplified version of the dish, with salmon sashimi the sole focus of the dish. It may not have the additional tuna like its counterpart does, but it nevertheless is just as delicious.
50% slots: 15:00 – 16:00
50% slots: 15:00 – 16:00
Yumeya Japanese Restaurant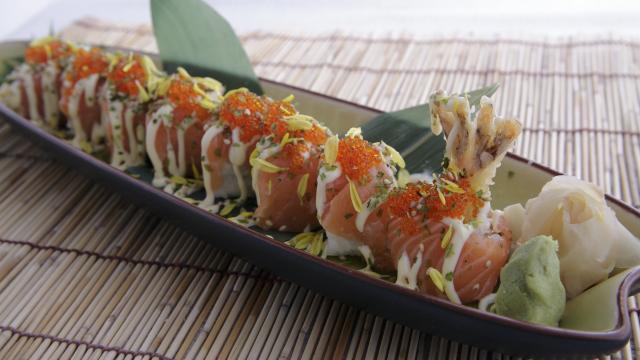 Operational since 2006, Yumeya Japanese Restaurant and Bar has a commitment to staying true to Japanese culinary traditions, ensuring freshness and quality are not sacrificed while retaining the top Japanese flavours. It's no different for their Chirashi Sushi Box, where fresh sashimi is its top draw here. All its premium seafood are flown in from Japan weekly under very strict conditions to ensure the freshness is sealed.
50% slots: 18:00–18:30