8 freshest salad dishes for you
How could you survive from fat, oil and junk food? The answer would be salad! Various ingredients bringing sources of nutritions together, offering a refreshing taste!
Yet how could you find a trendy and unique salad, out of the millions of regular options? There's certainly no shortage of salad in Hong Kong, but still it's hard to find a special one. A special salad can offer you a healthy lifestyle, as well as an uplifting mood of course!
You just need to know where to find them – and we've gathered a list of some of the best.
A-1 Bakery Group: Parkview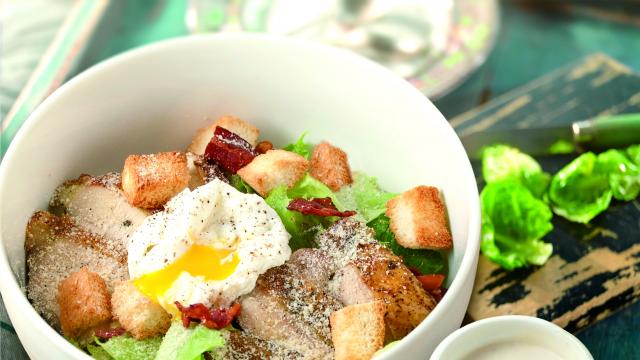 4 Branches: Sunshine City | Metroplaza | New Town Plaza | Popwalk
(discount slots among branches could be different)
Parkview focuses on western fare, serving popular dishes from the US and all over Europe. Those who love a good steak can go for the 8oz grilled US angus striploin steak, while those who prefer pork can opt for the roasted US pork in bone, which comes served with herbs and tomato. Each meal also comes served with homemade bread.
Recommended Salad: Caesar Salad with Grilled Japanese Chicken $96 $48
For those who like Japanese-styled grilled chicken, this salad is highly recommended. The chicken flavour flows into the lettuces and creates a brand-new tasting experience. A must-try for chicken fanatics!
50% slots: 16:00 – 16:30, 21:30 – 22:00
Bread & Beast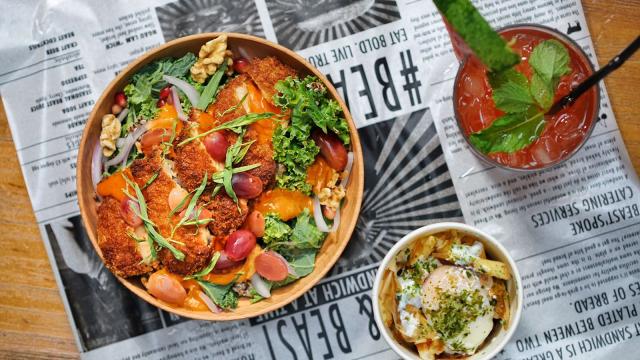 Bread & Beast is a sandwich eatery that combinees freshly baked bread with slow-cooked meats and self-cured pickles. Their signature sandwich is the Nagu Lam Wich which is made of 12 hour slow-cooked beef brisket. Bread & Beast also has a new special sandwich every month!
Recommended Salad: Birdman Super Salad Bowl $88 $44
A perfect combination between salad and crispy fried chicken! Feel it before you try it – the spicy and the crispy makes it tasty, and all ingredients reaches an absolute balance in taste, and after the pickled red grapes added on top – the Birdman Super Salad Bowl is truly a total blast. After all, how could you miss a salad that offers a healthy taste of crispy fried chicken?
50% slots: 17:00 – 17:30
Are U Labeler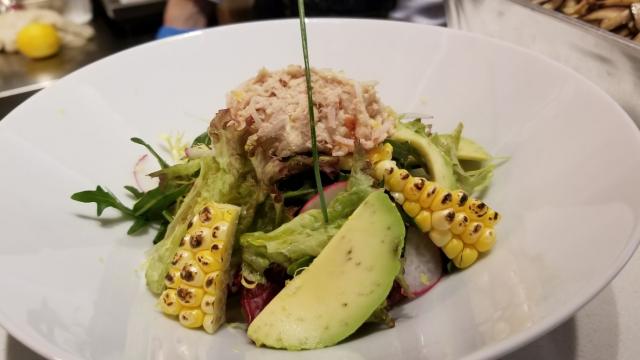 The owner's idea behind this cafe is that life is a label. You label things, and people label you. The cafe's interiors reflect this idea, with industrial walls adorning graffiti and chalkboard menus featuring each day's specials. Are U Labeler's fare is mainly western, with options like Portobello benedict, chicken panini and the Kaiser Burger, which has cheese, burger steak and sunny-side up egg. Located at Ho Man Tin's Soares Avenue, it's a nice, quiet place for a chill afternoon.
Recommended Salad: AVO Crab Meat Salad $68 $34
People love avocado so much because it tastes absolutely delicious to them. Avocado fills every bite with bursts of flavour, not to mention the delicate tastes of the crab meat mixed together. It would be an unforgettable experience, which means, once you try it, you won't get rid of the memories of its multi-layerd tastes.
50% slots: 18:00 – 20:00
MedOven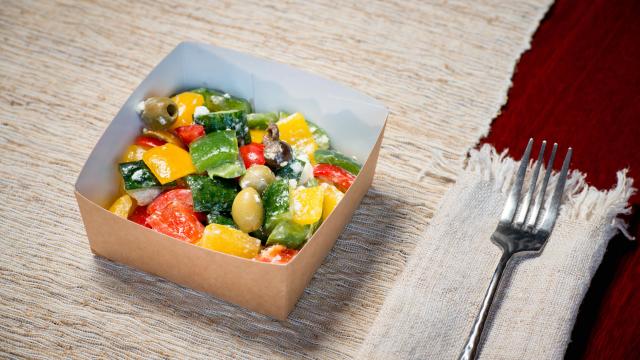 2 Branches: Sheung Wan | Wan Chai
Medoven was born from the desire to bring true blue Mediterranean flair to Hong Kong. Established in the summer of 2016, the restaurant in Sheung Wan's Bonham Strand serves kebabs and "piddezzas", unique boat-shaped pizzas. Among the standouts on the menu are the lamb souvlaki, Lahmacun beef "piddezza" and baked lobster. Come by for an authentic taste for the Mediterranean.
Recommended Salad: Greek cheese salad $49 $24.5
Colours and tastes take off in this salad – they take you to the sunny shore of the Mediterranean. Don't miss out the original Greek cheese right here in the centre of Sheung Wan. It is a combination of a tri-colour bell pepper dressed with Mediterranean herbs and olive oil. If you're into cheese, this one is a must-try!
50% slots: 15:30 – 16:00 (discount slots among branches could be different)
Slow life
Slowlife advocates a healthy lifestyle, offering food that is organic with no MSG, chicken powder or hormones. "NO MSG, NO CHICKEN POWDER, NO HORMONES" is their business indicator. Menu highlights include Slow cooked Salmon with Mashed Purple Potatoes and Red Saffron Cream Sauce, Papparadelle Slowcook AUS Wagyu Beef Oxtail stew and Slow Cooked Hormones Free USDA Natural Prime Steak with Black Truffle and Port Wine Sauce. They have a 'first try first buy' motto, whereby diners can first try their food at their restaurant. If they like it, they can also purchase their healthy food products to bring home to make it for themselves.
Recommended Salad: Own-farm Micro Green with Strawberry Grapefruit Salad $88 $44
Vitamins flourish in this salad bowl – what can be healthier than a combination of strawberries, pomelos and vegetables planted in a local farm? Absolutely a first choice for healthy dining! If you're for an organic lifestyle, then don't miss out this salad of an astonishing taste!
50% slots: 18:00 – 18:30
Odelice!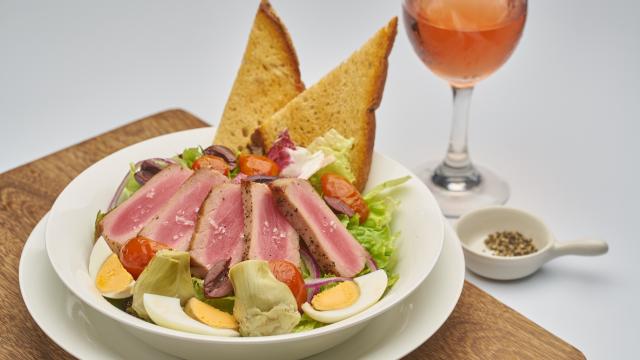 Odelice!'s Landale Street eatery introduces hearty French food to Wan Chai in a cozy environment with professional services. Signature dishes include grilled Iberico pork, mixted tartines platter and French savoury crepes. Odelice! also offers some of the best French crepes and waffles in Hong Kong that provide great value for money. Its flagship along Landale Street is one-of-a-kind in Hong Kong, with its welcoming atmosphere sure to take a city of gourmands by storm.
Recommended Salad: Fresh Tuna Nicoise salad $128 $64
You get the fresh and high-quality tuna, and everything prepared for the nicoise salad altogether in this exciting salad. Offering an extraordinary enjoyment, the Fresh Tuna Nicoise salad undoubtedly brings tremendous impacts into your mouth, which makes it a popular choice!
50% slots: 18:00 | 18:30
Ent Restaurant and Bar
Standing for eat and travel, ENT Restaurant and Bar provides a countryside dining experience in Tai Po's Lung Mei village, housing all things western under one roof. Tuck into light bites like nachos ($108) and quesadillas ($108), or go big with the baby pork back ribs ($148). There are both indoor and outdoor seating, ensuring diners looking for an escape from the city will feel completely at ease here.
Recommended Salad: Orange Salad Spanish Style $78 $39
A battlefield for the sweet and the sour tastes! When arugula meets sliced carrots, pomegranate seeds, and honey mustard in your mouth, you get to know what it means – a fabulous feast of colours and senses! The green, the red, and surely the yellow colour makes your appetite colourful as well!
50% slots: 18:00 – 18:30
Le Voila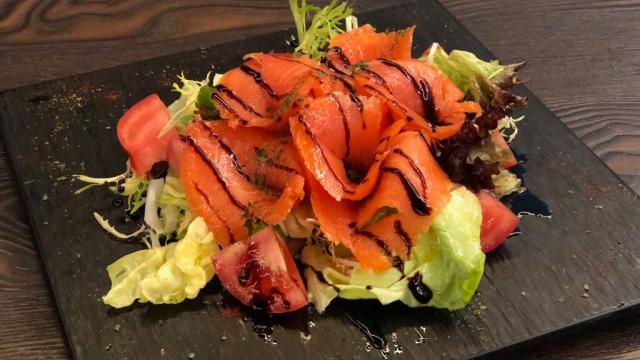 Tucked away in Tin Hau is a cosy French restaurant Le Voila. It is helmed by award-winning chefs chef Jack, who studied extensively in France before returning to Hong Kong. Each item on the menu is thoroughly commendable, but the meat lovers will salivate at the grilled 8oz wagyu flank steak and 36oz Australian black angus ribeye bone-in.
Recommended Salad: Smoked salmon salad $155 $77.5
What gets better than a slice of salmon placed into a salad bowl? Boldly claimed in its name, the smoked salmon salad offers nothing else but the outstanding tastes of the salmon itself. High quality ingredients bring about high quality experience, and it's true that the salmon salad provides you with the top dining experience.
50% slots: 14:00 | 21:30 – 22:00