Let's celebrate the National Eggs Benedict Day!
Here comes the National Eggs Benedict Day on April 16th –  if you're a brunch enthusiast with eggs on the brain, how about enjoying poached eggs with Hollandaise sauce and Canadian bacon or ham on English muffin halves! Rich flavorful Hollaindaise sauce, salty and savory ham, perfectly poached eggs, and the fluffy yet crunchy texture of English Muffins. Eggs Benedict Day would be the perfect excuse to find yourself a plate of the delicious egg benedict meal with a side of fried potatoes. You can head out for the old standby, or you can try one of these novel approaches to Eggs Benedict as in our recommendations!
Mansons Lot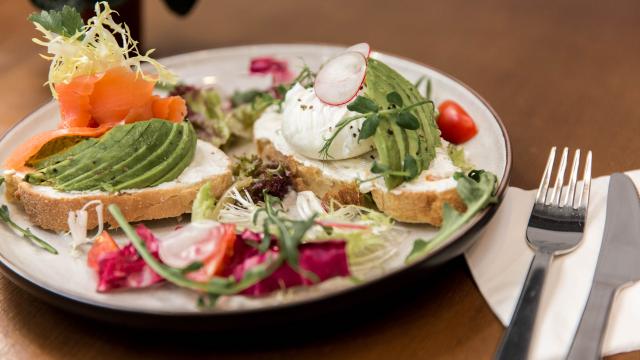 Our sole goal is to provide the highest quality coffee, tea and fresh food accompanied with great service.nnThat's why we proudly serve fresh specialty coffee by Di Gabriel, Sydney and why we choose to cook our food, fresh, on site.nnOur coffee is one of Australia's most awarded and is winner of Australia's Best Espresso (2010/2011 and 2012). Master roaster Sam Gabrielian uses only the highest grade Arabica beans to create the best tasting espresso blends. Then we fly them here fresh and hand brew and craft them to the highest standards for your enjoyment.
HABITŪ table @ Leighton House
HABITŪ is made up of the uniquely tasteful dining experience. Since its establishment in 2003, HABITŪ table work to create a neighbor boutique caffè serving handcrafted, artisan coffee with simple comfort foods in an environment that reminds you of home. For a coffee house, we are quite particular about our food. We select only the best ingredients from around the world, and prepare them in an innovative way that highlights their wholesomeness and unique original flavours. We strive to offer an elevated dining experience for the increasingly health conscious public.
BRICK LANE @ Admiralty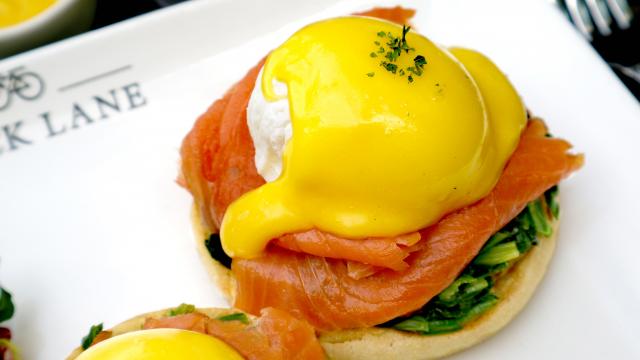 BRICK LANE® specialises in English breakfast, with eggs benedict ($98), and a range of English meals, including skillet pancakes (from $88) freshly baked by their own bakery. The setting is chic and alluring, modelled after London's actual Brick Lane. Mounting a big white bike on its brick wall has become a brand icon, coupled with dark wood furniture and vintage bulbs without coverings set an ambient English gastro-pub mood. The restaurant is committed to quality and is very particular about food ingredients, wines and coffee beans choices.
Oolaa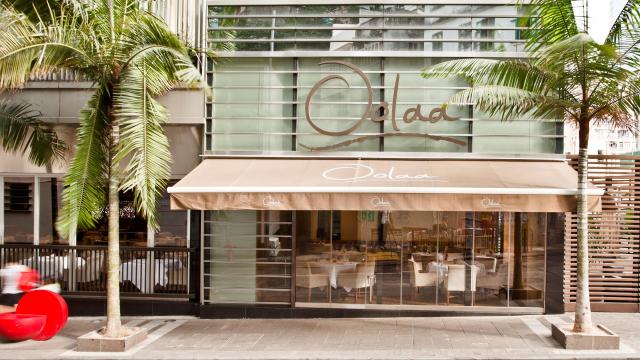 Oolaa is a 6,000sqft venue housing a restaurant, lounge bar, café corner and private dining area all under one roof. Also boasting an outdoor terrace, wood-fired pizza oven and a collection of fine wine, the restaurant serves international cuisine, with options like New Zealand Tenderloin (8oz), Chicken & Asparagus Risotto and Creamy Duck & Porcini Pappardelle. Located on Soho's Bridges Street, Oolaa is perfect if you're looking to host events, or just to kick back with good food and a nice glass of wine.
The Pawn by Tom Aikens
Housed in one of Hong Kong's most iconic landmarks and considered a historical site dating back to 1888, The Pawn brings you an exciting restaurant and bar concept in a unique space that was once the famous Woo Cheong pawnshop. After extensive renovations in the summer of 2014, The Pawn reopened in collaboration with celebrated British chef, Tom Aikens and now offers both traditional and modern British cuisine across two floors, the 'Botanicals' bar and second floor 'Kitchen'.
HMV Kafé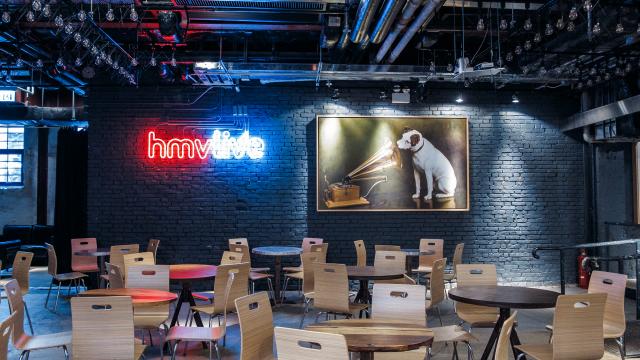 Take a seat back and listen to the songs of your choice. Yes, you read that right. HMV Kafe has designated tablets and headphones, so you can enjoy your experience in their café blasting your choice of music without being a bother to your neighbours. There are hearty mains here, like the BBQ chicken burger or the fried prawn combo platter if you're with friends. Prefer something sweet? Try their Nutella banana pancakes.