Restaurants To Try When Visiting Cebu
Cebu City has so much to offer including cultural attractions, beaches, century-old churches, and many great restaurants that serve delightful meals which would satisfy your taste buds and leave you wanting for more…
Coral Seaside Restaurant @ Jpark Island Resort and Waterpark
Located at Maribago, Coral Seaside Restaurant at Jpark Island Resort and Waterpark has one of the finest and freshest catch of seafood and Mediterranean cuisine. The ambiance of Coral Seaside Restaurant is overlooking the breathtaking view of the beach, a beautiful spot to dine and unwind. One of the must-try dishes is the seafood platter, which is made of fish, prawns, squid and mussels drizzled with tomato salsa and garnished with greens perfect for a delicious meal by the beach. The chili crabs, inspired by the famous Singaporean cuisine,brings out the sweet yet savory & slightly spicy flavors;a must try at Coral Seaside Restaurant.
Twilight Roofdeck Lounge + Bar at bai Hotel
Fan of rooftop bars? Check out Twilight Roofdeck Lounge + Bar located at the 23rd floor of bai Hotel for a lovely 360-view of the skyline of Mandaue, Cebu, and Lapu-Lapu. Together with the stunning view, Twilight Roofdeck's bar food is a must-try as they highlight the delicious Cebuano cuisine. Some of the dishes include the Chicharon Bulaklak; a classic Filipino street food favorite, Crispy Pata; golden brown deep fried crispy pork, and their variety of dish selections with a japanese twist such as Ebi Tempura, Twilight Gojira Rolls, Tuna and Salmon Sashimi, & more!
The Sails at Mövenpick Hotel Mactan Island Cebu
Embark on a culinary journey at The Sails located at Mövenpick Hotel Mactan Island Cebu with their great selection of dishes specializing in international cuisine. The cozy and warm atmosphere will instantly make you feel at home making it the perfect place to feast. The buffet consists of live cooking stations, a fresh salad bar, an interactive pizza kitchen and a great variety of delectable desserts to savour on. You may also enjoy the themed dinner buffets at The Sails such as the which go on from assorted intercontinental specialties from around the globe to Filipino Fiesta on Fridays.
10 Dove Street at Oakridge
10 Dove Street located at Oakridge, has beautiful aesthetics and a home-y ambiance perfect to take Instagram-worthy clicks! Whether you are looking to grab a cup of coffee, savor some sweet treats and cakes, or indulge in some comfort food; 10 Dove Street is the best spot to chill in. Must-try dishes include the Old Fashioned Lasagna; which is oozing with cheesy goodness; Pesto Pasta; a generous serving of rich savory pesto, and the pastries baked to perfection, which will definitely leave you wanting for more. Visit 10 Dove Street at Oakridge and fall in love with their irresistible food selections and beautiful ambiance.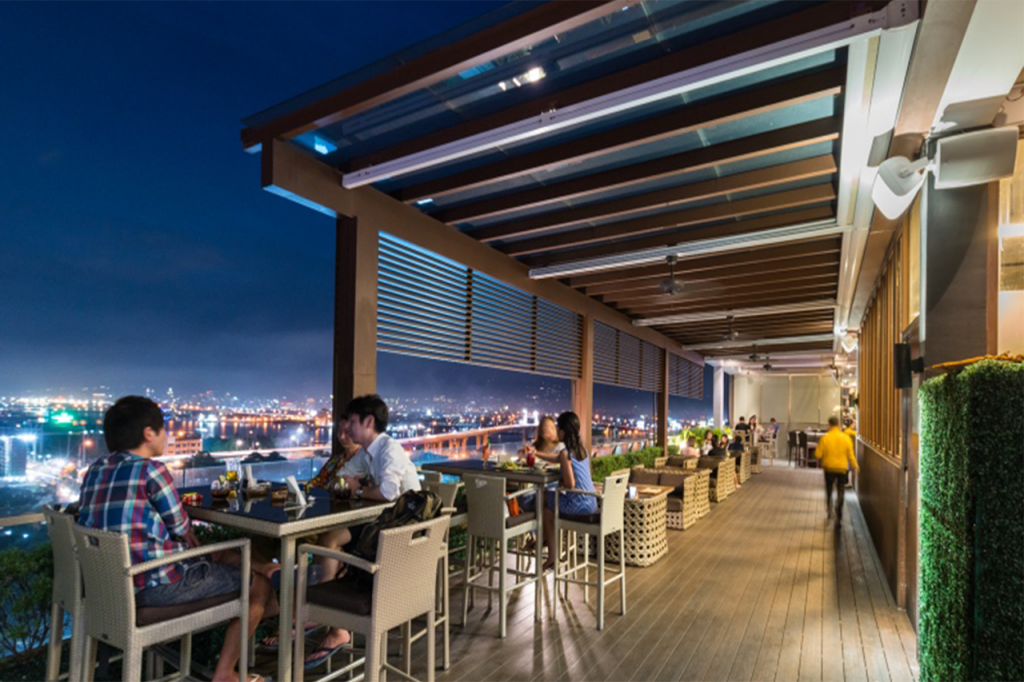 Scape Skydeck @ Azon Residences
Located in Azon Residences, Scape Skydeck is definitely a spot to check out for their sumptuous selections of Asian and International fusion dishes. Check out the Chicken Tikka Masala; the tomato cream sauce with the perfect hint of spices will surely make you fall in love with this dish, Pulled Lamb Korma; mildly spiced lamb garnished with coriander, Peppered Chops; paired with sweet corn mash and onion sauce, & a whole more dishes to choose from. The breathtaking view overlooking the city lights and Mactan is the perfect vibe for a great dinner and night out. Head over to Scape and experience a beautiful dining experience with style.
The Cove @ Bluewater Maribago Beach Resort
Overlooking the magnificent view of the open sea, The Cove at Bluewater Maribago Beach Resort offers an appetizing and fresh selection of seafood dishes for you to indulge and enjoy. Must-try dishes include the Tiger Prawns; freshly cooked prawns paired with orange fondant potatoes and caviar butter sauce, Seafood Spinach Curry; sauteed prawns, mussels, mackerel, squid, and spinach cooked in a creamy coconut curry sauce; Scallops, with the option of having it cooked cream and onions, or lemon butter style, and a whole lot more dishes to choose from! The Cove is one of the restaurants in Cebu that serves the freshest catch of the sea and is the perfect spot to indulge in your all-time favorite seafood dishes and enjoying the cool breeze overlooking the panoramic view of Bluewater.
Enye by Chele Gonzalez @ Crimson Resort & Spa Mactan
Located at Crimson Resort & Spa Mactan, Enye by Chele Gonzalez serves authentic and contemporary Spanish cuisine that every Spanish cuisine fan would definitely love. The beautiful aesthetics of the restaurants is equal to the mouthwatering menu that consists of tapas, comfort food and everything in between. The restaurant has a wine cellar, charcuterie room, and a show kitchen where guests can take a glimpse of food preparation to table service. The classic Spanish food perfectly fits the Filipino palette.The home made lechon Cebu tacos, mushroom croquettes, and the pan-seared tuna with smoked eggplant and citrus romesco sauce is definitely a few of the many must-try dishes at Enye. Feast with your family and friends and dine to your heart's content over a good meal.
Explore these culinary gems and get ready to be taken on a flavorful discovery at the Queen City of the South, Cebu. Eatigo is making it more convenient for you with discounts up to 50% off on all of the restaurants mentioned above. Download eatigo for free, sign up, and start browsing on hundreds of participating restaurants all over the Metro. Explore Cebu and dine now!
About Eatigo
Founded in 2013, Eatigo is Southeast Asia's leading restaurant reservation platform that offers its users the best dining experience at the best price via time-based discounts. Eatigo harnesses technology to empower restaurants to maximise their capacity during off-peak hours, and in return allows diners to eat at the best prices. From luxury hotels and fine-dining restaurants to familiar neighbourhood concepts, Eatigo offers the largest inventory of discounted restaurants with over 4,000 partners in the region. Eatigo is trusted by over 4 million users, and is currently available in Singapore, Hong Kong, Thailand, Philippines, Malaysia, India, and Indonesia.
Book now: https://eatigo.com/ph/cebu/en/c/restos-to-check-out-in-cebu-5000690