10 Indian dining spots to spice up your life!
What's not to love about Indian cuisine? The Indians have perfected the art of truly making the most of what Mother Nature has given us, using spices, herbs, vegetables and fruits to create the flavours we have come to love today.
Indian cuisine is also one of the most influential in the world, having formed the basis of other food, such as middle-eastern, Maghreb, African, Fijian and even British cuisine.
For a taste of this wonderful cuisine, here are 10 places to check out.
Anjappar @ Westgate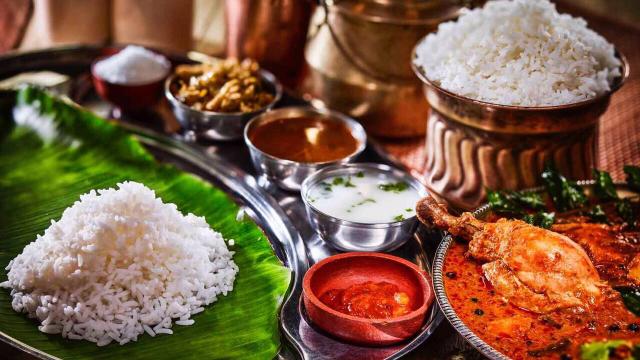 Anjappar specialises specifically in Chettinad cuisine – a region of Tamil Nadu in southern India. They've made in roads in Singapore, first at Race Course Road before expanding to Westgate in Jurong. Specialties include tandoori chicken, mutton sukka varuval and special Anjappar chicken dry. Having been established in 1964, they bring over 50 years of experience. The kitchen also only uses fresh ingredients with home-made recipes.
Recommended items: tandoori chicken $13 $6.50  | mutton sukka varuval $13 $6.50
50% slots: 17:00 | 17:30
2 other outlets at Race Course Road and Changi Business Park.
Indian House @ 49 Boat Quay
Indian House serves the same traditional Indian authentic cuisines with great pride. The restaurant goes to great length to handpick only the finest and the highest quality ingredients and herbs. Must-try options include their kebab platter, butter chicken and rogan josh. Located along Boat Quay, this restaurant is a relaxing atmospheric venue beside the Singapore River.
Recommended items: Kebab Tastari $45 $22.50 |Rogan Josh  $21.90 $10.95
50% slots: 17:30 – 19:00
Pavilion Banana Leaf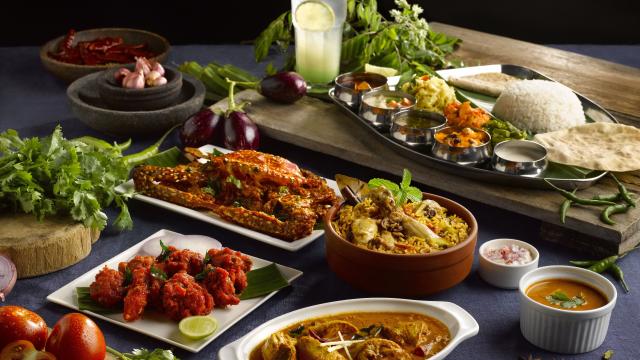 A concept by Indian celebrity chef Dr Chef Damu, Pavilion Banana Leaf (formerly known as Zaffron Banana Leaf) is a casual dining restaurant specialising in south Indian cuisine. Among the delicious nosh available are lamb shank biryani, fish head curry and a vegetarian set meal for vegans. Located at Jurong Point, the menu here uses centuries-old traditional recipes, all with a modern twist to suit local taste buds. They also serve selected North Indian dishes from award-winning restaurant Zaffron Kitchen.
Recommended items: lamb shank biryani $21.80 $10.90 | fish head curry $28 $14
50% slots: 11:00 | 11:30 | 17:00 | 17:30
Bikanervala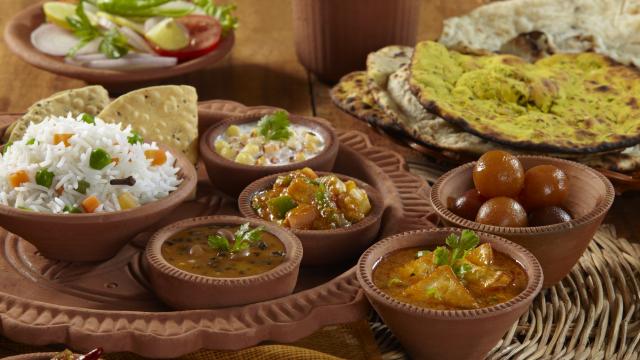 For your fix of Indian fare, head to Bikanervala, who specialise in Indian cuisine from both the north and south. Favourites here include the paneer tikka, mixed vegetarian uttapam and butter naan. Bikanervala also has a range of sweets, which are also available for mass order on their website. The restaurant is open 24 hours, so whether you're craving for Indian food in the wee hours of the morning or late in the night, Bikanervala will welcome you with open arms.
Recommended items: butter naan $3 $1.50 | paneer tikka $11.50 $5.75
50% slots: 02:00 | 02:30
Urban Roti @ Syed Alwi Road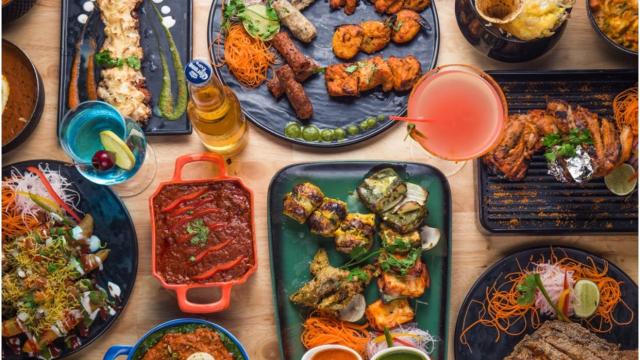 Tucked away in Syed Alawi is Urban Roti, who specialises in hearty Indian grilled offerings. Armed with premium ingredients, its executive chef has crafted a menu comprising authentic Indian fare, such as tandoori chicken, samosa chaat and palak paneer. Good for both corporate meals and intimate gatherings, you'll love every bite you take here.
Recommended items: palak paneer $15 $7.50 | butter chicken $16 $8
50% slots: 16:00 | 16:30
Khantha's Kitchen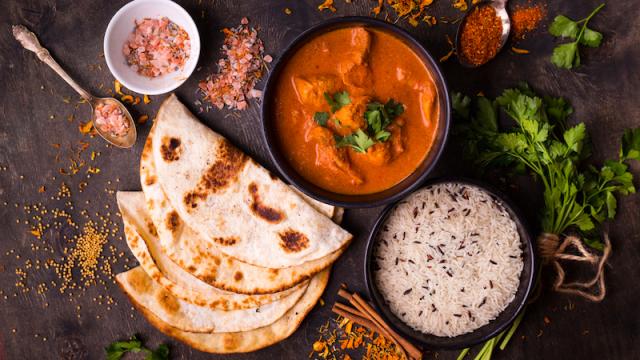 Khantha's Kitchen specialises in tandoori dishes, serving marinated meats cooked in the traditional charcoal-prepared oven. There are options like chicken tikka masala, sheekh kebab and zafrani chicken tikka. If you're looking for vegetarian food, the restaurant has a wide selection of vegetarian dishes as well. Khantha's Kitchen is located at International Plaza on Anson Road, so come down and have a taste of their richly varied cuisine encompassing both northern and southern India
Recommended items: zafrani chicken tikka $17.90 $8.95 | sheekh kebab $17.90 $8.9
50% slots: 17:00 – 19:30
Kinara @ Changi Business Park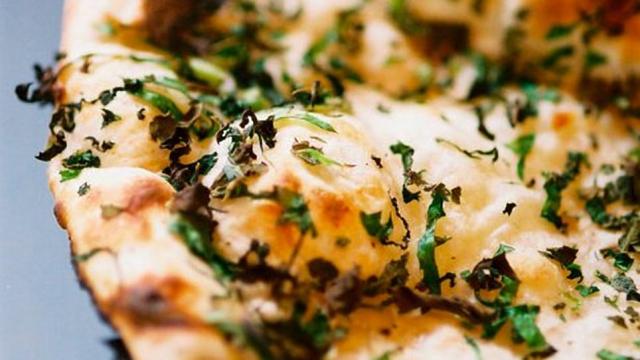 Meaning 'river bank' in Punjabi, Kinara offers a mix of north and south Indian seafood, particularly from the Kerala region. Among the recommended dishes here are the Murghtikka masala, kebab tashtari and their signature Kinara fish curry. The restaurant is designed such that it is appropriate for business lunches and a relaxing weeknight family restaurant, and is able to hold corporate functions and events there.
Recommended items: Kinara fish curry $17 $8.50 | Murgh tikka masala $19 $9.50
50% slots: 18:00 | 18:30
Taste of India
Taste of India offers diners a true, well, taste of India. Encompassing both northern and southern Indian cuisine, the restaurant at Rangoon Road offers a wide variety of tandoor and Chettinaadu dishes. Signatures here include the chicken tikka butter masala, tandoori chicken and butter naan. The venue is able to accommodate more than 120 people, which is great for large gatherings and corporate functions.
Recommended items: chicken tikka butter masala $8.90 $4.45 | tandoori chicken $9.90$4.95
50% slots: 11:30 | 17:00
Anglo Indian Café & Bar @ Chijmes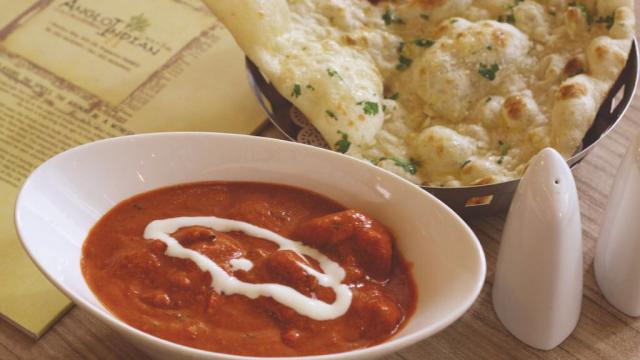 With the British having made India their home over 300 years ago, it was always likely both cultures would have an influence on each other, resulting in Anglo Indian cuisine. This café and bar at CHIJMES offers just that, serving delights like butter chicken, Balti & Palakpaneer and chicken tikka BBQ. Seating here is open-air, giving the place a nice relaxing environment that's perfect for unwinding with friends after work.
Recommended items: butter chicken $20 $10 | chicken tikka BBQ $20 $10
50% slots: 17:00 | 17:30
Looking for a chill spot? Myra's faces the Kallang River, boasting a peaceful and cosy ambience with seating available both indoors and out. Offering a mix of Mexican and northern Indian cuisine, the restaurant offers dishes like tequila prawns, kaju matter makhana methi and butter chicken. Your vegetarian friends also need not fret – there are plenty of options for vegans too.