Just about everyone reading this is already familiar with what Eatigo does: dining discounts of up to 50% off every day. The app is pretty straightforward to use: search, reserve, enjoy! But did you know the Eatigo app also comes with a slew of features that makes searching for restaurants a lot easier? Here are the 4 features we bet you didn't know about.
Adding a restaurant to your favourites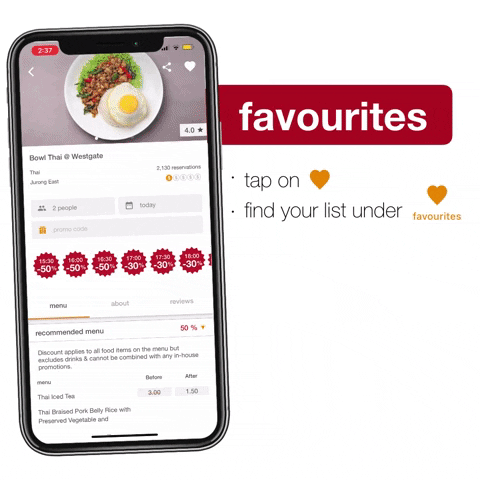 This one's perfect for creatures of habit. Got a place that you frequent a lot? Favourite it and speed up your booking process next time. The option to favourite a restaurant can be found on the restaurant's reservation page. Tap the heart at the top right corner of your screen. The next time you open the Eatigo app, simply tap on the favourites tab on the app's home screen. This is located on the app's bottom tray, next to the home tab. You'll be able to see all your favourited restaurants at a glance without having to search for them each time you book. Easy!
Here & Now; 'Redo Search Here' features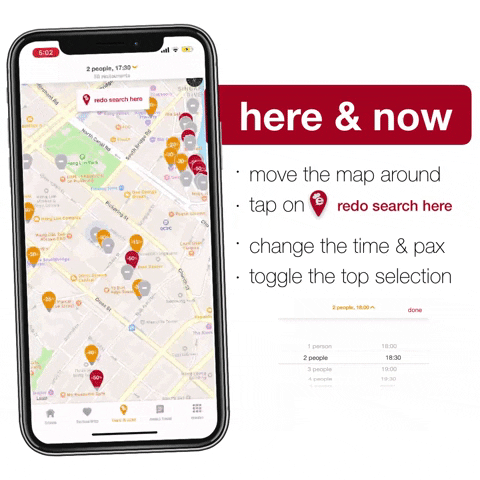 The Here & Now feature is a fantastic tool that shows you all restaurants nearest to you. You'll be able to see the discounts currently being offered. It is the middle icon on the app's bottom tray. Just as how you'd use Google Maps, you'll be able to drag the map around to see available restaurants and discounts in real-time in other areas. Pinch and drag to where you want to head to next hit 'Redo Search Here' at the top of the screen to find out what's around elsewhere. Toggle the selection at the top to find restaurants nearby, based on time and number of pax!
Sorting through a category
With over 4,500 restaurants on Eatigo, categories that group restaurants based on location, cuisine type and occasion are helpful in searching for what you want. But even categories have a large number of restaurants within. The American food category in Singapore, for example, has over 90 restaurants alone. Using the sorting feature is a very useful way to bring exactly what you're looking for closer to the top. At the bottom of each category are two options: sort and filter. The sort feature allows you to each category's restaurants according to:
– Most reserved
– Highest recommended
– Distance
– Star rating
– Price (most expensive first)
– Price (least expensive first)
Filtering within a category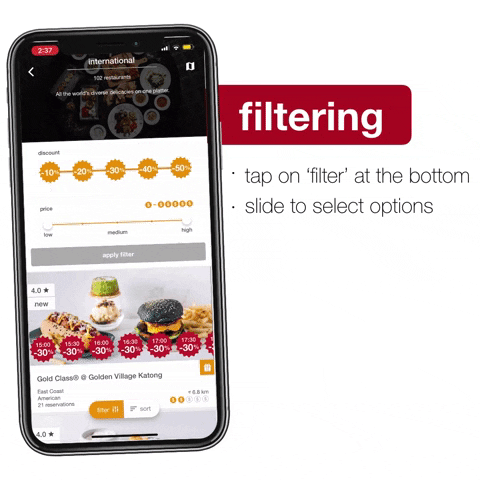 Before this, we showed how the sorting feature within the category helps refine your search easily. Here, we'll show you how filtering is also another nifty feature you should use. Each restaurant on our platform has varying price points and discounts at different times. If you'd like to filter out restaurants based on these two factors, the filter feature will be your new best friend. You can specify varying price points you'd like to see and even set the filter to show only restaurants with a 50% discount. Once you're done, tap 'apply filter' and voila – you'll only see restaurants with 50% discount timeslots at the specific price points you set!