Food for the Soul
While fine dining establishments are known for maintaining the highest quality of food and standards, such food aren't just found there. We've picked out 5 places here that similarly place a high emphasis on quality, taste and standards on their food.
The difference? They're all laidback, casual and perfect for a lazy Sunday afternoon. No minimal dresscode required – come as you are and enjoy the quality on offer. Check them out here:
Sabio by the Sea
The Spanish tapas concept has been taken "to the sea", giving rise to Sabio By The Sea at Quayside Isle, Sentosa Cove. This laidback and spacious outlet overlooks the Sentosa Marina and features grilled meats and fishes together with tapas. Great must-try options here include paella de pescado, esparrago and gambas al pil pil. Feel simple bliss when you take a seat outside, leisurely savouring the seaside breeze.
50% slots: 
weekdays: 12:00 – 18:00 | 21:00
weekends: 11:30 | 12:00 | 15:00 | 15:30 | 16:00 | 16:30 | 17:00 | 21:00
Nassim Hill Bakery Bistro Bar
Don't let its name deceive you. Nassim Hill Bakery is more than just its name suggests. It also offers late-night meals, bar bites and a comprehensive drinks menu, from champagnes to handcrafted cocktails. Situated at the Tanglin Post Office building, the bistro has favourites like grain-fed angus T-bone steak and chilli crab pasta. They are known for their malt-flavoured Guinness stout bread, which is used in their signature Hot Reuben sandwich.
50% slots: 
weekdays: 09:00 | 15:00 | 15:30 | 17:30
weekends: 15:00 | 15:30 | 17:00
Oopen Pasta & Grill @ Ibis Singapore Novena
While OOPEN may be located within the Ibis Singapore Novena, the restaurant is a casual affair. Great for large group gatherings, the restaurant offers grilled fare, Asian delights and some of the best Italian dishes you'll find in Singapore. Menu highlights here include the crustacean bisque, slipper lobster pasta and seafood nest noodles.
50% slots: 
weekdays:  15:30 | 16:00
weekends: 15:30 | 16:00
Little Lazy Lizard
While there are other Lazy Lizard outlets, this one here along Sixth Avenue is the first to have a full-fledged breakfast menu until 11am on weekdays, and 2pm on weekends. Here, favourites include butter rum French toast, homemade pancakes and their Lazy Lizard Big Breakfast platter. Outside breakfast, they have the regular extensive western menu, with options like chicken wings, burgers and pesto crab linguine.
50% slots: 
weekdays:  15:00 | 15:30 | 16:00 | 16:30
weekends: 15:00 – 20:30
Winestone @ Mercure Singapore on Stevens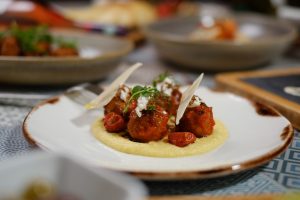 Winestone is a Modern European restaurant, late-night bar and wine retail store, serving affordable wines and authentic European cuisine. Located along Stevens Road, the restaurant focuses on dishes that are inspired by the coast of the Mediterranean Sea. Choose from dishes like ricotta & veal meatball, seared scallops and seabass & dolma prawns. Diners can sit in the comfortable indoors or out on the shaded terrace.
50% slots: 
weekdays:  14:00
weekends: 14:00 | 21:30