Modern renditions of local dishes
Before classics were classics, someone somewhere experimented, innovated and in due course invented a brand new dish. A dish that people loved so much that it eventually went down in history as a local classic.
While classics are classics for a reason, the same innovation and experimentation is encouraged at certain restaurants. We've compiled 5 such places below – check them out here.
King's Laksa Steamboat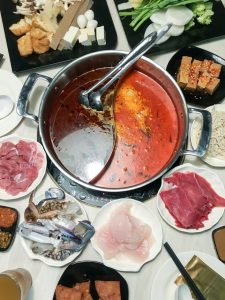 King's Laksa Steamboat comprises of a husband and wife team that specialises in, well, laksa steamboat. Diners here can enjoy the delicious coconut and curry broth as they enjoy ingredients like prawn paste chicken, fried tofu with Thai sauce and sliced pork belly. The restaurant can be located along Teck Chye Terrace, just a few short minutes' walk from Serangoon MRT station.
50% slots:
Weekdays: 13:00 | 17:30
Weekends: 12:30 | 17:30
BigBrand Satay
Who doesn't love satay? What makes BigBrand Satay stand out is its use of healthy, organic ingredients in preparing their signature sweet and sour pineapple peanut sauce. Founded by a Malacca-born Singaporean, this eatery at China Square Central has options like their signature pork satay, truffle satay and satay nasi lemak. Try them and you'll soon be left wanting for more.
50% slots:
Weekdays: 16:30 | 17:00
Weekends: 16:30 | 17:00
Enjoy Eating House
Chef and owner Joel wants diners here to simply enjoy, hence its name. Enjoy Eating House and Bar serves Asian fusion fare, with items like Singapore-style chilli prawns, brandy white fish soup and "te kar" bee hoon. If you're thirsty or in need of some after-work relaxation, there is a fully stocked bar where you can enjoy all the pints you need.
50% slots:
Weekdays: 00:00 | 23:30
Weekends: 00:00 | 23:30
Mama Soi
Though Mama Soi mainly serves Thai food, you'll find other Asian delights here, including familiar dishes to locals. There is the Chinese-style roasted pork belly, wok-fried salt and pepper squid, and laksa pasta. If you prefer something more authentically Thai, you'll find options like moo yang and gai yang here as well. Mama Soi can be found at Cuppage Terrace, just around the corner from Centrepoint in Orchard.
50% slots:
Weekdays: 16:00 | 16:30 | 17:00 | 17:30 | 18:00 | 18:30
Weekends: 16:00 | 16:30
Chachako
A casual laidback place to grab a meal, Chachako is perfectly placed for those living in the west. Located within Jurong Point, the restaurant serves western and Asian fusion fare. Favourite dishes here include the grain-fed black angus steak, Korean fried chicken and their signature dish, the tom yum curry salmon. Try also their toasties, which offers a modern twist on the local kaya toast that Singaporeans love.
50% slots:
Weekends: 11:00 | 15:00
Weekdays: 11:00 | 15:00