Our Favourite Local Dishes
While our shores are blessed with a plethora of cuisines from all around the world, sometimes all we want is some good ol' homemade goodness. Thanks to our blend of cultures that is our national identity, we have no shortage of local delights as well.
Here are 5 places to enjoy the hearty local food.
The Local Box – Dry Laksa
Specialising in a range of local dishes, The Local Box gives its own modern interpretation of the classics that Singaporeans love. One of their most popular dishes here is the toasted prawn dry laksa. With sliced fishcakes, veggies and tau kee, this dish carries the same amount of richness and creaminess from coconut milk.
50% slots:
Mon – Thurs: 15:30 | 16:00
Fri: 16:30 | 17:00
Sat: 20:00 | 20:30
Spagtacular – Assam Fish Pasta
If you love pasta, then you'll already know Spagtacular for its fusion food offerings. Best known for taking much-loved classics and combining them with local flavours, their assam fish pasta is one of their top-selling items on the menu. The assam is used to create the pasta sauce, and comes with a fried dory fillet and a lemon slice for a zesty kick.
50% slots: 
Mon – Sat: 15:00 | 15:30 | 16:00
Sun: 14:30 | 15:30 | 16:30
Rong Hua BKT – Bak Kut Teh
A true Singaporean classic. If you're going to enjoy one of the most renowned local dishes, doing so at one of the best in the business is a must. Rong Hua Bak Kut Teh began in the 1920s and have refined their recipe over the many years to become the signature that it is today. From its well-boiled broth to its fall-off-the-bone meat, this is one dish you can't miss.
50% slots:  11:00 | 17:30
House of Peranakan – Ayam Buah Keluak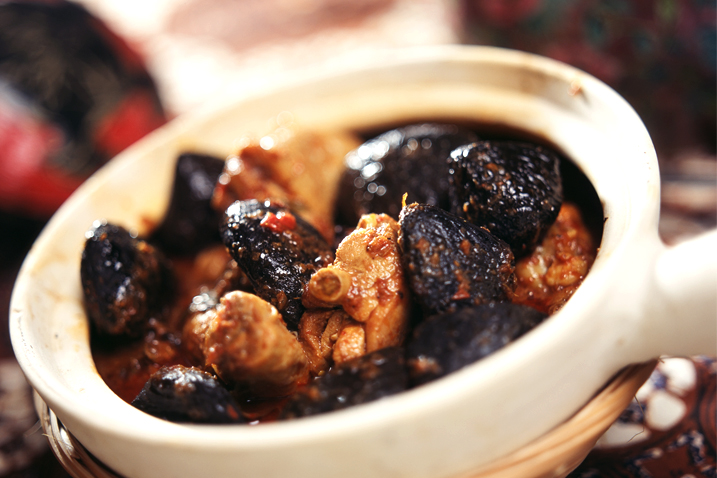 Authentic cuisine can only be done right by people of the same heritage – which is why House of Peranakan is headed by a Peranakan family. Here, it is their ayam buah keluak that has people talking. It isn't an easy dish to make, so appreciate the hard work behind it as you enjoy one of the most memorable dishes you'll have.
50% slots: 
Weekdays: 21:30 | 22:00
Weekends: 13:30 | 14:00 | 22:00
Golden Village Gold Class – Pandan Lava Cake
No tickets needed to enjoy a higher class of food here at Golden Village's Gold Class. If you're tired of the usual sweet-or-salted popcorn, you'll appreciate the range of options available here. If you're looking for something sweet to end your meal with, the pandan lava cake is every sweet tooth's paradise. One bite and you'll find yourself in heaven.
50% slots:
Mon – Thurs:  12:00 | 21:30
Fri: 12:00 | 12:30
Sun: 21:00 | 21:30
Subscribe to our official Telegram Channel for latest news, promotions and more!