Earn the points for every friend you refer!
eatigo is increasing the reward points to 100 pt. for every friend you refer to use eatigo.
Simply get friends to book and attend their first reservation via eatigo within 1-31 July, 2019 both of you earn up to 500 Baht worth of voucher prizes!
What will you get when referring a friend?
Refer 1 friend = 100 pt.
Refer 2 friends = 200 pt.
The Point Redemption Condition:
Redeem 50 pt. worth 100 THB
Redeem 100 pt. worth 200 THB
Redeem 150 pt. worth 400 THB
Redeem 200 pt. worth 500 THB
Wanna know how it works? Check out our graphic below. Or let us know if you have questions via support.th@eatigo.com
---
Step 1
Go to Menu and click "refer & earn"
Step 2
Copy Link or Code and share the love
Step 3
Spread your circle by sharing on social media
---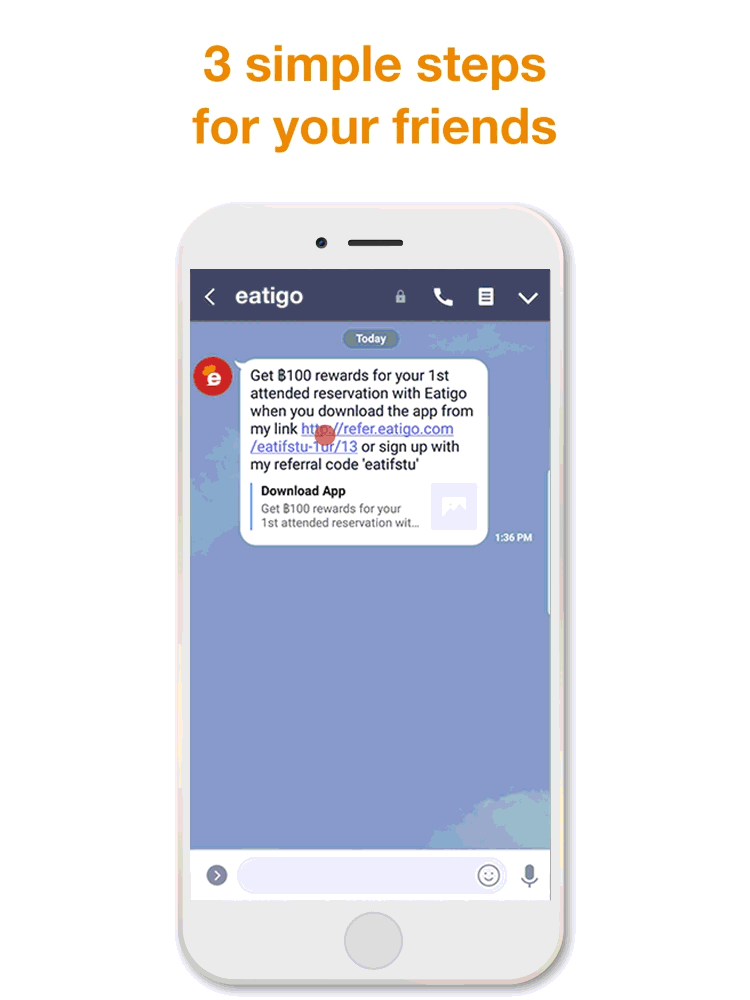 Step 1:
Referred by Link: click link and download application
Referred by Code: Download application
Step 2:
Referred by Link: Register account
Referred by Code: click "I have a referral code"
Step 3
Make and attend 1st reservation