Discounted Meal with Free Vouchers
Referral points will be awarded for both you and your friend, each time when you successfully refer a friend to download eatigo and attend a reservation for the first time – Share the good news and rewards with your friends right away!
A friend in need is a friend indeed:
Refer 1 friend – gain 50 points, redeem PHP 100 Eatigo Cash Voucher
Refer 2 friends – gain 100 points, redeem PHP 200 Eatigo Cash Voucher
---
---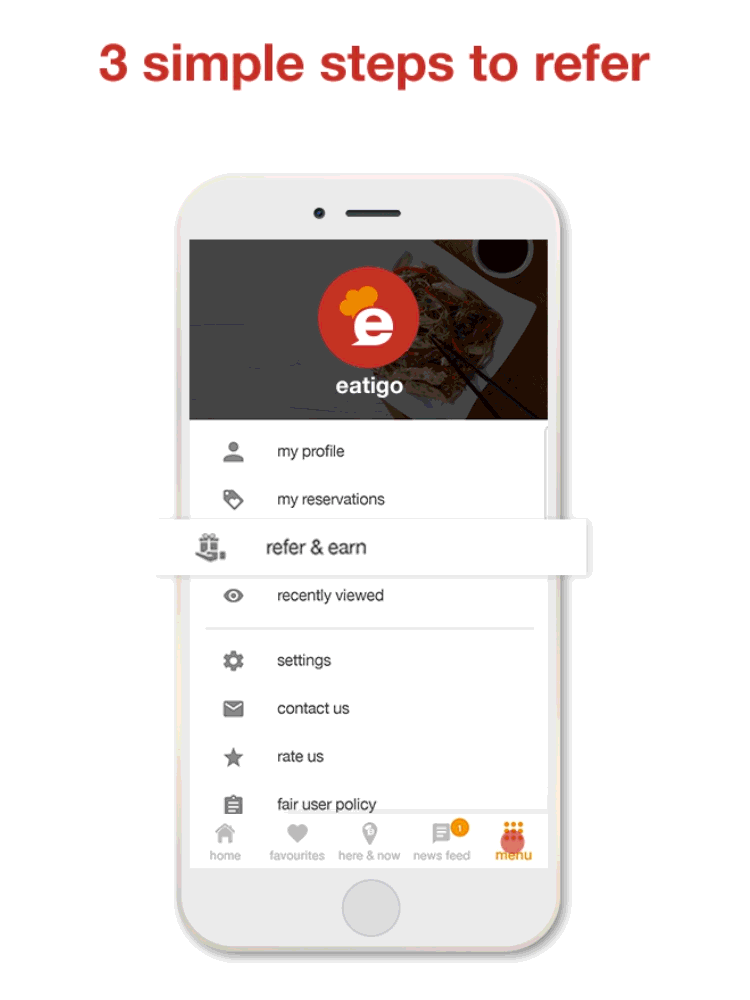 Step 1
Go to Menu and click "refer & earn"
Step 2
Copy Link and Code and share the love
Step 3
Spread your circle by sharing on social media
---
Step 1:
Referred by Link: click link and download application
Referred by Code: Download application
Step 2:
Referred by Link: Register account
Referred by Code: click "I have a referral code"
Step 3
Make and attend 1st reservation
---
Tips for you:
"Go All Out" ► Share your code via all your social media platforms. The bigger the reach the more friends can enjoy these amazing eatigo discounts with you.
"Start from Zero" ► To earn points, your friend's mobile device must have never been installed eatigo before!
"Keep a close eye" ► Make sure your friend clicks on your referral link and download eatigo, or make sure he or she enters your referral code on the registration page
"Show up and go" ► Your friend shall attend the first reservation
"Rewards comes duo" ► Points will be awarded within 24 to 48 hours of your friend's attended reservation, and prizes can be redeemed for both of you!
Reserve now and enjoy discount at up to 50% off over 800 restaurants on eatigo!
Select your City and Book Now!
---
Terms and Conditions:
Referral points issuance might differ for different campaigns
This program is applicable for eatigo's Android and iOS mobile apps only, hereinafter referred to as "mobile apps". This program is not valid for eatigo's website
The refer & earn program is only valid for new installs and sign ups on eatigo's mobile apps.
Your friends must not have installed the eatigo app on any of their devices before.
The email address through which the friend signs up with the eatigo app, must not have been used for signing up with eatigo before.
A sign up with a different email address using the same device will not qualify as a valid referral.
The device on which the friend downloads the eatigo app should not be rooted or jail-broken.
The eatigo app should not be installed using App runtime for Chrome, emulators or simulators.
If your friends use someone else's referral link, the person whose link was used most recently would receive the reward, even though you may have referred to them first.
Your unique referral links should only be used for personal and non-commercial purposes. You cannot distribute/publish your unique referral link where there is no reasonable basis for believing that most of the recipients are personal friends (such as coupon websites, forums, Wikipedia etc.)
Reward points earned starting 1 January 2020, have a validity of one year.
Eatigo Cash Voucher codes redeemed have expiry dates. Should you fail to make and attend reservation with the Eatigo Cash Voucher code by stated expiry date, no recovery code will be provided.
eatigo reserves all rights to change the participating vouchers at any point in time.
eatigo reserves all rights to change the rewards conferred under the refer & earn program at any point in time.
eatigo may suspend or terminate the refer & earn program or any user's ability to participate in the program at any time for any reason at their discretion. Reward points earned as a result of fraudulent activities will be revoked and deemed invalid.
eatigo reserves the right to amend these terms & conditions at any time without any prior notice. Modifications of these terms will be effective from the time they are updated in the terms & conditions