8 local dishes which Singaporeans love
Most people think of the Merlion or Marina Bay Sands when one mentions Singapore. However, one of the more underrated things that is a true reflection of our culture, heritage and diversity is our food.
One perk of living in a multicultural society is that we get to enjoy food from various cultures, from nasi lemak to chilli crabs.
With National Day around the corner, Eatigo takes a look at 8 places on our app that lets you enjoy what truly makes our country uniquely Singapore. Oh, and you get to enjoy discounts of up to 50% as well!
Founder Bak Kut Teh @ Jurong Point – pork ribs soup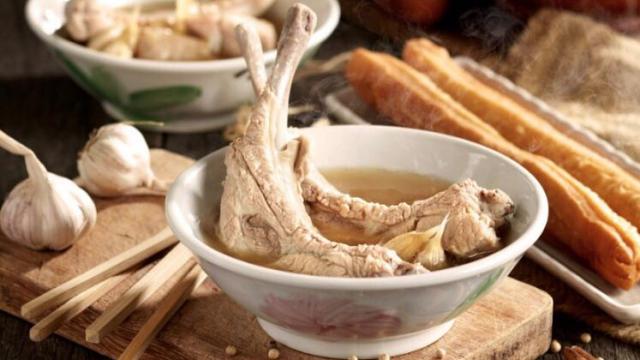 If the crowds at Founder Bak Kut Teh aren't proof enough of their quality, you only need to look at their ever-expanding photo wall of celebrities who have sought out to enjoy one of the best bak kut teh in Singapore. If you're here, there's only one dish you need to try their signature Founder Bak Kut Teh, which uses a broth perfected over 40 years by Mr Chua himself and uses only the freshest pork ribs.
Recommended items: pork ribs soup $9.80 $4.90   
50% slots: 15:30 | 16:00
2 other outlets at Hotel Boss and Bugis.
Warong Kim's Seafood – Kim's fried Hokkien prawn mee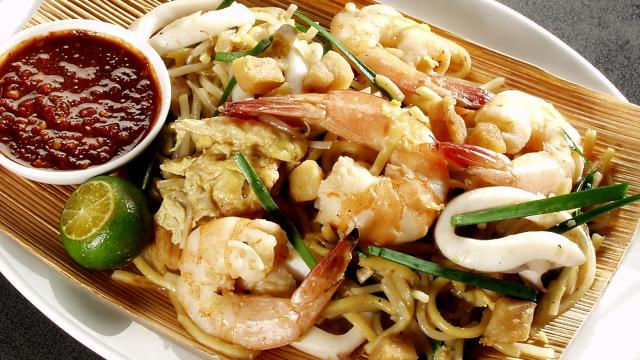 Warong Kim's Seafood is the product of hard work from a small stall selling Hokkien mee at Changi Road in 1971 to what they are today. This outlet is pork-free and are in the process of applying for Halal certification. After all these years, their renowned Hokkien mee remains the one dish that people still come back to.
Recommended items: Kim's fried Hokkien mee $8 $4
50% slots: 15:30 – 18:30
Kaki Makan – crispy fried lemongrass chicken nasi lemak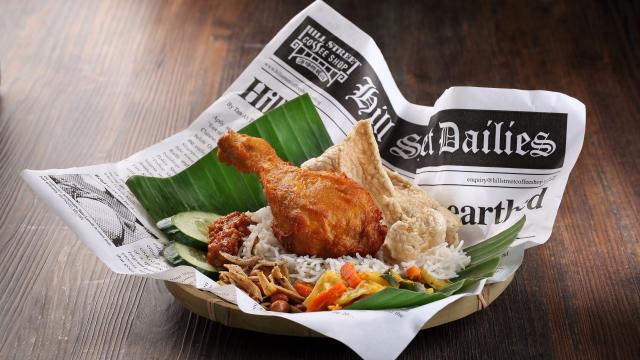 Kaki Makan specialises in authentic local delights. Here, you'll find classics like minced chicken noodles, but the one dish that diners must try is their crispy fried lemongrass chicken nasi lemak. Decked in a warm and cosy environment, Kaki Makan is a place where young and old can linger over their meal and revel in the unique local dining culture.
Recommended items: crispy fried lemongrass chicken nasi lemak $6.90 $3.45
50% slots: 08:00 – 08:30 | 17:00 – 17:30 | 19:00 – 19:30
Hill Street Coffee Shop @ Gardens By The Bay – traditional laksa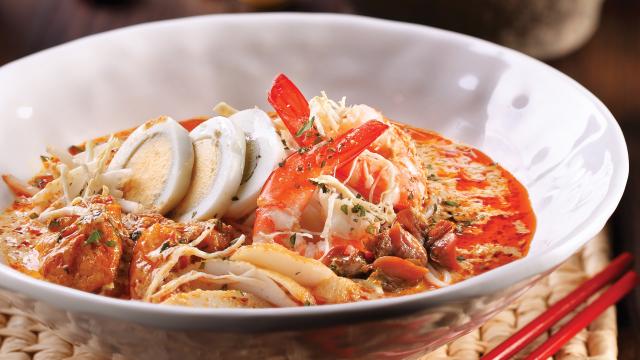 Hill Street Coffee Shop aims to recreate the coffee experience that once populated the scenes of Singapore. Be brought back to the times where you found yourself surrounded by the aroma of freshly brewed kopi or coffee, strong flavours of kaya, mosaic flooring, marble tables and the hustle and bustle of a coffee shop in thegolden era. Their traditional laksa maintains its authenticity to capture flavours of old. It is a place where both the old and young can convene to appreciate Singapore's historied past.
Recommended items: traditional laksa $9.90 $4.45
50% slots: 08:30 – 10:30 | 15:30 – 17:30 | 21:00
1 other outlet at Marina Cove.
Khantha's Kitchen – fish curry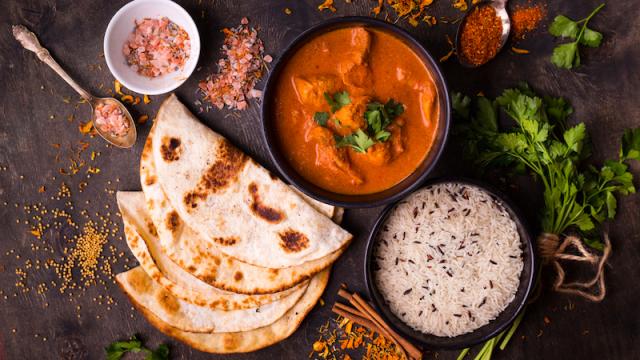 In multiracial Singapore, Indian food is a favourite among all Singaporeans and foodies. Khantha's Kitchen incorporates flavours from both northern and southern India, giving the locals here an authentic taste of India. If you're having any curry dishes, be sure to make the fish curry the top of your order.
Recommended items: fish curry $17.90 $8.95 
50% slots: 17:00 – 20:00
Anjappar @ Race Course Road – tandoori chicken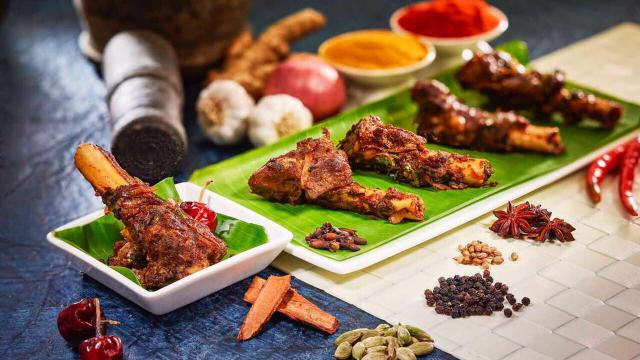 Anjappar specialises specifically in Chettinad cuisine – a region of Tamil Nadu in southern India. They've made inroads in Singapore, first at Race Course Road before expanding to Westgate in Jurong. They have been established since 1964, a year before Singapore gained independence. The tandoori chicken is a must-try – we can guarantee you'll savour every bite as you sink your teeth into the tender meat.
Recommended items: tandoori chicken $13.6 $6.50
50% slots: 17:00 – 17:30
2 other outlets at Changi Business Park and Westgate.
Chai Chee Seafood Restaurant – chilli crab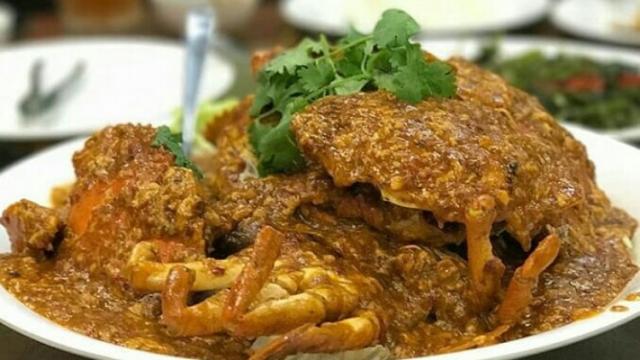 You can't compile list of local food recommendations without including chilli crab. You'll find some of the best ones here at Chai Chee Seafood Restaurant. It is a friendly, laidback place at 359 Changi Road. You'll love the conversation with friends as you tuck in and enjoy the delicious and fresh crab.
Recommended items: chilli crab (small) $50 $25
50% slots: 12:00 | 15:00
Food Anatomy @ Red Dot Museum – salted egg fish skin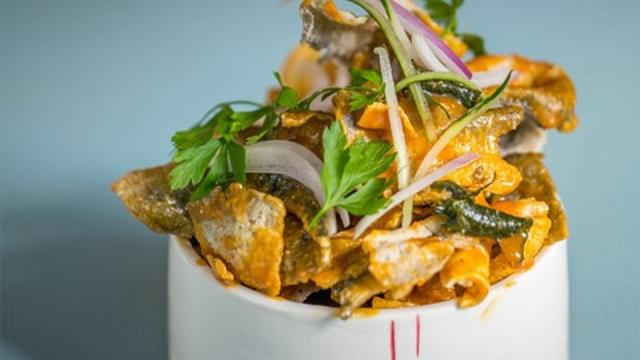 Food Anatomy describes itself as where design meets culinary technique. Their philosophy is that food that is delicious isn't enough, and that every dish must also look beautiful too. Aptly located at the Red Dot Design Museum, the restaurant serves up a mix of local and western fusion. Here, they've really perfected how to get salted egg fish skin right. We're not saying the rest aren't good. We're just really addicted to the salted egg and fish skin.
Recommended items: salted egg fish skin $10 $5
50% slots: 10:00 – 11:30 | 15:00 – 17:30 | 20:30 – 21:30