Beat The Heat
With the onset of summer season, there's bound to be more gatherings with friends and family. It's the perfect time for families to catch up through sharing delicious cold treats. It's also the best season for friends to go on random food trips. Here's a list to help you beat the heat this summer season!
Gelatofix Lifestyle Café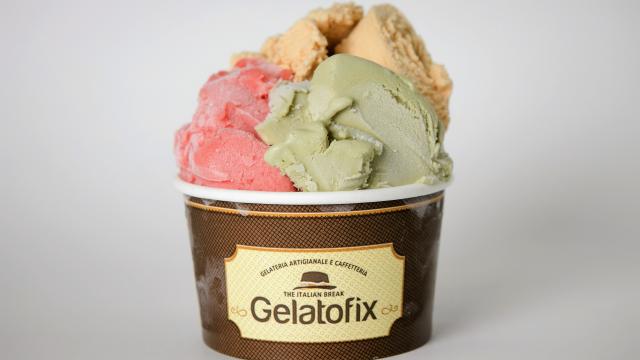 Desserts are definitely top of mind during summer. There are so many cool treats that we love to eat and gelato has certainly got to be one of them. Gelatofix Lifestyle Café is a restaurant you must visit if you're a dessert lover. They have a long list of gelato ice cream that will make your jaw drop. Get a taste of their Choco Brownie Affogato with its delicious combination of brownie cubes, Knam's chocolate gelato and whipped cream. If you want something a bit fruity, you can also try the Garden Fruits Affogato, which has a great mix of fruits, for di latte gelato, and orange juice.
Pricing: Choco Brownie Affogato PHP220.00 PHP110.00 | Garden Fruits Affogato PHP180.00 PHP90.00 
Chiara's Gelateria @ Venice Grand Canal Mall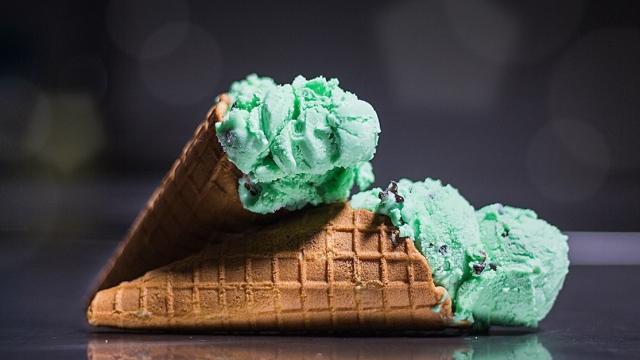 Want a glimpse of what it's like in Italy? How about you grab yourself some handcrafted gelato from Chiara's Gelateria. This restaurant has a wide selection of cold treats, yummy cakes and pasta creations.They even have their own specialty, the La Dolce Vita. It's a delicious concoction of toasted bread with white chocolate cream and chocolate gelato toppings. When you visit this restaurant, don't forget to share the tasty Foresta Nera – one of their famous chocolate gelatos. You can also refresh yourself with the Primavera, which has 2 delicious scoops of strawberry gelato.
Pricing: Foresta Nera PHP220.00 PHP110.00 | Primavera PHP220.00 PHP110.00 
Le Miel Cafe et Patisserie @ Greenfield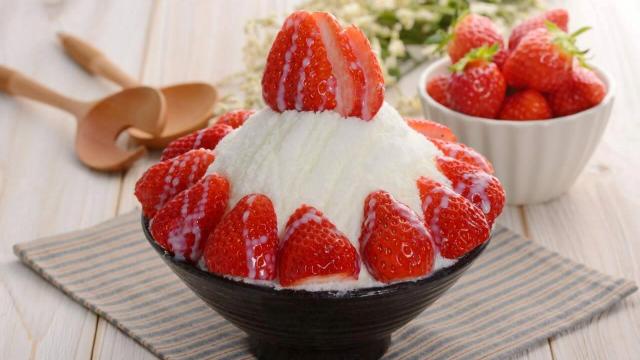 Some days you just need a place to unwind and relax. If you're looking for a comfortable space after a tiring day at work, head on over to Le Miel Café et Patisserie. This simple café has a wonderful ambiance that will instantly lift your mood. They serve brewed coffees and special French pastries. They have a scrumptious Red Velvet Cake with a generous amount of cream cheese. You can also try their rich Gateau Fudge Chocolat Cake if you're craving for something sinful and sweet. Spoil yourself! You deserve it.
Pricing: Red Velvet Cake PHP1600.00 PHP80.00 | Berry Berry Bingsu PHP270.00 PHP135.00 | Gateau Fudge Chocolat Cake PHP150.00 PHP75.00 
Cafe Shibuya @ Trinoma Mall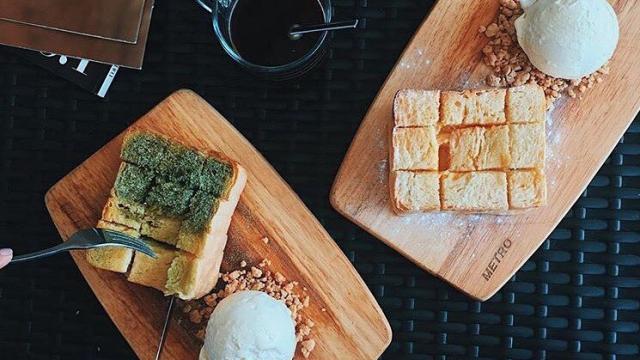 Café Shibuya is a homey restaurant perfect for brunch dates or afternoon merienda with friends. They have several desserts and Japanese inspired meals for you to choose from. There are several specialty toasts and appetizers you'll want to try. In addition to that, Café Shibuya has interesting dishes like the Chicken Caesar Pasta Salad that is quite filling. For something to cool you down, get the unique Strawberry Matcha dessert. You might also want to bite on their Original Shibuya Honey Toast – a sweet and fun treat where you get to pour the honey for yourself!
Pricing: Strawberry Matcha PHP245.00 PHP122.50 | Original Shibuya Honey Toast PHP175.00 PHP87.50
Gelare @ Uptown Mall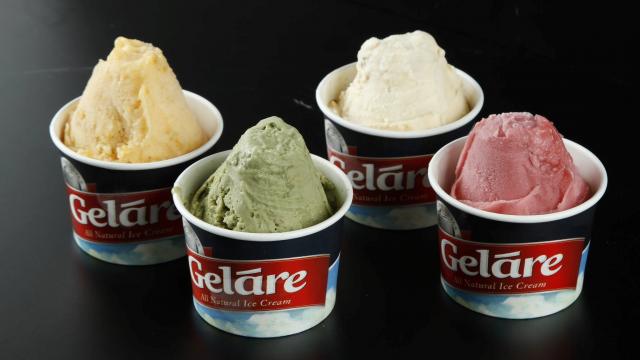 Uptown Mall has a lot of dessert parlors but Geláre is certainly one you will not want to overlook. This casual ice cream café comes from Australia. It's known for their playful ice cream inventions like the Wild Strawberries and Peanut Butter n' Cookies. They serve one of our all-time childhood favorites, the Banana Split, as well as the messy yet mouthwatering Mud Pie. Moreover, Geláre also has an all-day breakfast menu to keep your tummy happy from morning 'til night!
Recommended items: Fettuccine al Tartufo PHP370.00 PHP185.00 | Mud Pie PHP245.00 PHP122.50 | Buttermilk Fried Chicken PHP299.00 PHP149.50 
Cold Layers Cafe @ Fishermall
When the summer heat unleashes its fury on us, we can't help but look for something cold to eat. Ifyou're searching for an instant refresher, grab something from Cold Layers in Fisher Mall. This café is cozyand has an abundant selection of fluffy frozen deserts. Their ice desserts come with special flavors andtoppings that make eating cold treats more playful than ever. You can try their best selling Soy Snow Icemade from real soymilk that has been cooked really slowly for that extremely smooth texture. Try theirpopular Milk Snow Ice for that perfect cooler with its light and creamy premium milk snow ice.
Pricing: Milk Snow Ice PHP115.00 PHP57.50 | Soy Snow Ice PHP135.00 PHP67.50 
 Bluesmith Coffee & Kitchen @ MJ Plaza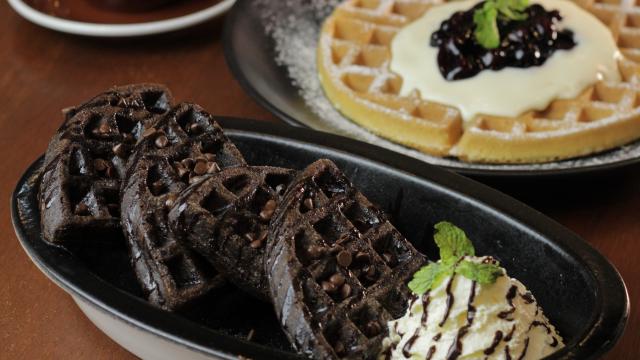 Bluesmith Coffee & Kitchen is not one to brag but it is surely a place that will invite you to sit and dine. It is an industrial-inspired café with exciting dishes to offer. For something to treat your taste buds, indulge yourself in their Ube Dream Waffles or Dark Choco Churro Waffles. They have a lot of coolers you can choose from, as well. They have specialty coffee over ice like the Iced Caramel Latte. For something fresh and zesty this summer season, you can also get the Apple-Cucumber Juice or the Fresh Lemonade Soda.
Pricing: Ube Dream Waffles PHP260.00 PHP130.00 | Dark Choco Churro Waffles PHP260.00 PHP130.00
Satchmi @ SM Megamall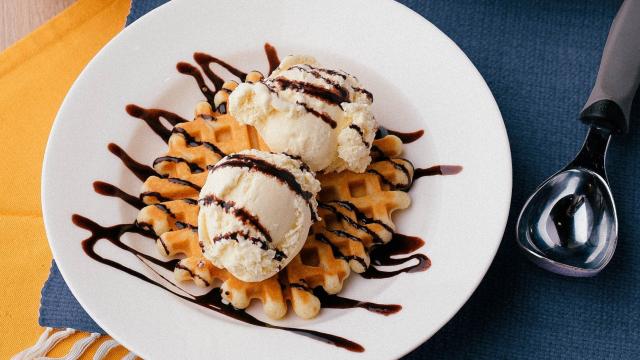 Satchmi has summer hangout written all over it. It's a chill record store with all the vintage vinyl records and fine coffee for you and your hipster friends' needs. More than being a record store, it also has special desserts you can enjoy as you sit down and relax. For meals, you can try their saucy signature Reuben Cream Pasta as well as their delicious and crispy Brined Fried Chicken Burger. For some cold drinks to enjoy as you relax in their restaurant, you can get the Iced Americano (ice + water + espresso) or their Iced Mocha (choco syrup + ice + milk + espresso).
Pricing: Reuben Cream Pasta PHP280.00 PHP140.00 | Brined Fried Chicken Burger PHP200.00 PHP100.00 | Chicken Ratatouille Waffle PHP280.00 PHP140.00