It's the time of the year for colourful candles, delightful lanterns, children laughter and family gatherings. Children especially look forward to this day for a fun time playing lanterns with friends and family. For some household, Mid-Autumn Festival is like the second most important reunion of the year where instead of dining on fanciful dishes, precious family moments are made over a pot of traditional Chinese tea and snacking on their favourite mooncake.
Since ancient times, traditional mooncakes are made with fillings of plain lotus paste, egg-yolk or nuts. Now there's a lot more variety of flavours from the worldwide famous Mustang King to modern classics like Chocolate Mint flavour.
Not to forget, this is also a season for gift giving. As the saying goes, you are what you gift! If you're having a hard time finding the perfect mooncake present, our "moon cake character" is here to help you decide.
Fashionable
       Life isn't perfect but your outfit can be. If the person you're gifting to live by the motto that appearance is the most important thing that makes or break their day, then these mooncakes from Toh Yuen Chinese Restaurant at Hilton PJ is a must! The cheongsam themed mooncake box from the Oriental Mid-Autumn Delight series is sure to warm the hearts of the fashionistas in your life with its elegance, beauty and refined taste.
12:00, 19:00, 21:30 – 50% discount

Photo credits to: <a href="https://www.zestpj.com/oriental-mid-autumn-delights/"Zest, Hilton PJ<a/>
Classical Icon
There will always be a desire for something new, fresh and innovative, as well as a yearning and respect for timeless elegance and beauty.  –   Helenatensen
Zuan Yuen Restaurant is well known for Cantonese cuisine and mooncakes that honor the timeless culinary traditions of age-old. There is a wide selection of traditional flavors with snow skin making a comeback!
13:30, 21:00 – 50% discount
Photo credits to: <a href=" https://www.malaysianfoodie.com/2018/08/moonstruck-zuan-yuan-chinese-restaurant-one-world-hotel-petaling-jaya.html#.W6NnGRMzZ-V"malaysian foodie<a/>
Lai Ching Yuen Restaurant at Grand Millennium hotel has also picked up traditional favorites to celebrate the Mid-Autumn festival. If you're looking for something extra special, do try out their new chocolate mint flavor!
18:30, 22:00 – 50% discount
Photo credits to: https://www.visionkl.com/lai-ching-yuen-exquisite-mooncakes/
Crafty domestic goddess
For the lovers of all things handmade and home-cooked. The originality and hard work placed in creating something great excites them! With fresh mooncakes made in-house and by hand, Le Mei at Le Meridien Putrajaya gives just that personal touch the domestic goddess seeks for. These handmade mooncakes comes in both traditional variety and snow skin.
12:00, 18:30 – 50% discount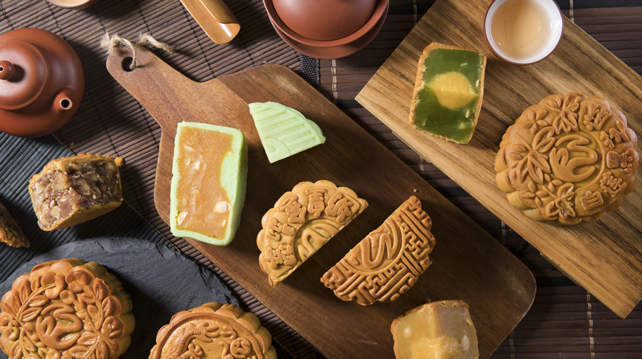 Photo credits to: https://thirstmag.com/coffee-tea/coffee-and-tea-features/Where-to-get-mooncakes-in-KL
Make your choice and Enjoy 15% off on mooncakes from now till 24th Sept when you book on eatigo. Grab this opportunity to enjoy double benefits with discounts on dining AND mooncakes!
Lets' make your day extra sweet with some dessert now. Download the eatigo app and get your discounts TODAY!