Spring! 'Tis the Season for High Tea Come-Back
With the year getting warmed up after the long year-end holidays and Chinese New Year festive breaks, now is the time to get back in full energy mode. What better way to discuss business and leisure than to do so over an afternoon meeting in the warm ambience of high tea. Look no further, here's a shortlist of some of the most well-loved high tea destination that is bound to impress your party guests.
The Orchid Conservatory / The Drawing Room @ The Majestic Hotel
Photo: Majestic Hotel
If you love flowers, the Orchid Conservatory is for your party! For a more serious and quiet mood, head on to The Drawing Room. A good balance of sweet and savoury from sandwiches, scones, cakes to refillable teas are served. Our party had our high-tea at the Orchid Conservatory, and the flowers and ambience were beautiful. We made our reservations a couple of months ahead as its almost always fully book for events during the weekends.
Thirty8 @ Grand Hyatt Hotel
Photo: Grand Hyatt
No high tea can beat this truly and literally high tea. At a height of level of the 38th floor, Thirty8 offers beautiful 360 degrees panoramic views of the city. From its delightful macarons to buttery cakes and a variety of tea (or coffee!) options to choose from, Thirty8 is quite an impressive place to enjoy a nice afternoon high tea.
Lobby Lounge @ Shang-ri La
Photo: Shang-ri La
The Lobby Lounge offers a more calm and serene ambience, with its floor to ceiling glass panels opening up to an idyllic view of its water-themed gardens. It offers a delicious and delicate mixture of Asian and Western high tea, serving chilli crab pie tee, cucur udang, to truffled egg in smoked salmon.
The Lobby Lounge @ Ritz-Carlton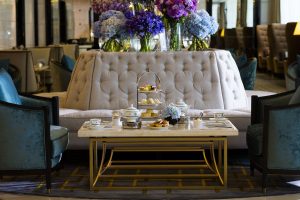 Photo: Ritz-Carlton
One of the most popular high tea choices, The Lobby Lounge at Ritz-Carlton offers live and unobtrusive performances from a talented quartet to entertain your high tea session.  From fresh warm scones to rich savoury quiches, enjoy a variety of luxury tea selection to complete your high tea experience.
The Drawing Room @ The St. Regis
Photo: The Star
Amid the bland modern glass façade of the building exterior, the interior of The Drawing Room is elegantly and artistically decorated, featuring a bespoke five-tier crystal chandelier and a signature horse sculpture by Colombian artist Fernando Botero. High Tea served in golden rim cups and plates, the delicious and delicately crafted high tea set holds no bar – you are welcomed to ask for refills on favoured delicacies!
TWG Tea
Photo: TWG Tea Facebook
Uncommon like the rest of high tea settings, TWG Tea's high tea is more accessible, with its high tea made available at malls. So if you are out after a long day of shopping, and you are looking for a simple no-frills high tea entertainment with your party, TWG Tea may be your choice! From colourful macarons to savoury sandwiches, TWG offers an astounding 450 fine harvest tea selection from around the world.
Lounge on the Park @ Mandarin Oriental
Photo: Mandarin Oriental
Overlooking the lush and exclusive Kuala Lumpur City Centre Park, you can opt to enjoy your high tea on the outdoor terrace. Enjoy the warm sun and lush greeneries at the Lounge on the Park together with a delicious platter of miniature cakes, pastries and tea selection.